Songs
Can you help with information/opinions about the choice of songs heard in Starman? Please click Here
The following song tracks were featured in
Starman
:
Track names in Bold are linked to a Soundtrack release.
All I Have to Do Is Dream - Karen Allen, Jeff Bridges
Are We Missing Any?
Song Trivia

At the beginning of the movie, when Jenny Hayden is watching home movies, she and her late husband harmonize on the Everly Brothers' "All I Have to Do is Dream." That is really Jeff Bridges and Karen Allen doing their own singing. While only a part of the song is used in the movie, the soundtrack contains a complete version.
Add some more trivia about the songs used in Starman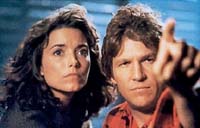 1984