Songs
Song near the end by cajun band was was "Parlez Nous a Boire". Cajun accordian player was Dewey Balfa of the Balfa Brothers. [Thanks to Travis]
The following song tracks were featured in
Southern Comfort
:
Track names in Bold are linked to a Soundtrack release.
Tit Galop Pour Mamou - The Balfa Brothers
Je Suis Orphelin - The Balfa Brothers
La Danse De Mardi Gras - The Balfa Brothers
Parlez Nous a Boire - The Balfa Brothers
Are We Missing Any?
Song Trivia
Do you know any interesting trivia about the songs used in Southern Comfort? Please send it in by clicking Here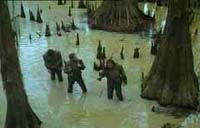 1981
Score Music
Composer(s):
Ry Cooder
Ry Cooder who immortalised Paris Texas with guitar, does it again here with the "Theme" from Southern Comfort a wonderful cajun slide show, slow and melancholic it fits perfectly the pace and movements of the structure of the film.
The Cajun music included, lends an authentic overtone to the scenes where it is present and with Cooders accompanying piece "Swamp Walk" the soundtrack is a must for lovers of southern Americana and its unique style in audio transportation.
Can you help with any of the instrumental score track names used in Southern Comfort?
Score Trivia
Do you know any interesting trivia about the instrumental score music used in Southern Comfort? Please send it in by clicking Here