Songs
A disco based soundtrack that is infamous for it's rarity. Many people believe that there never was an official soundtrack released to PROM NIGHT, but in fact, although extremely rare, it does exist with only a few thousand copies ever being released in Japan only. Having since been bootlegged on to CD, if you use our search feature, you just might find a copy.
The following song tracks were featured in
Prom Night
:
Track names in Bold are linked to a Soundtrack release.
All Is Gone - Blue Bazar
Fade to Black - Gordean Simpson
Forever - Blue Bazar
Are We Missing Any?
Song Trivia
Do you know any interesting trivia about the songs used in Prom Night? Please send it in by clicking Here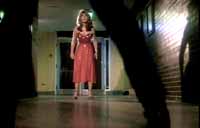 1980