Songs
Can you help with information/opinions about the choice of songs heard in The Principal? Please click Here
The following song tracks were featured in
The Principal
:
Track names in Bold are linked to a Soundtrack release.
Hello Heaven - Rob Jungklas
Straight Into The Fire - Jay Gruska
Are We Missing Any?
Song Trivia

One of the songs on this movie was : Strafe - Set it off on the left (ya'll)..this was the song that Lou Gossett is playing on the big box that he is carrying down the hall.
-Thanks to Paul Fredericks
Add some more trivia about the songs used in The Principal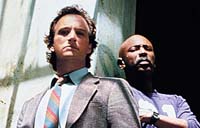 1987