Songs
The music went along great with the movie, but as I've said before, a lot of my time was spent laughing so hard I could barely hear anything but the next joke.
The following song tracks were featured in
Moving Violations
:
Track names in Bold are linked to a Soundtrack release.
Moving Violations - Nona Hendryx
I Can't Drive 55 - Sammy Hagar
Are We Missing Any?
Song Trivia
Do you know any interesting trivia about the songs used in Moving Violations? Please send it in by clicking Here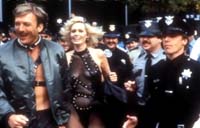 1985