Songs
Michael Sembello, the writer of the classic song "Maniac" for the soundtrack of "Flashdance" also wrote and performed the unreleased song "Rock Until You Drop". It was played in the scenes where the gang is getting everything set up to do battle with the monsters. [Thanks to Denise Marchand]
The following song tracks were featured in
The Monster Squad
:
Track names in Bold are linked to a Soundtrack release.
Rock Until You Drop - Michael Sembello
Are We Missing Any?
Song Trivia

On his album RADIO PET FENCING, MC Lars Horris samples The Monster Squad at the beginning of the first song, 'Hey's that's me'. It involves EJ and Horace at Burger king ("Hey fat kid, good job!" "My name... is Horace!") and the word Horace is sampled all through the song.
-Thanks to Crieff Anderson
Add some more trivia about the songs used in The Monster Squad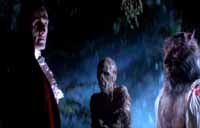 1987