Songs
The title track 'The Heart is so Willing' will leave you singing for days. It is a true 80's culture crime that this was never released.
The following song tracks were featured in
The Money Pit
:
Track names in Bold are linked to a Soundtrack release.
The Heart is so Willing - Stephen Bishop
Sittin' On A Dream - Kathleen Wakefield
Are We Missing Any?
Song Trivia

The heavy metal band performing at the end of the movie in the wedding ceremony is actually Brooklyn's own White Lion. They had a big hit in 1987 with "When the Children Cry".
-Thanks to Mark Gambuzza &Amp; Sid Goop
Add some more trivia about the songs used in The Money Pit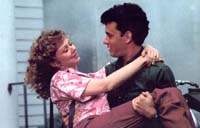 1986