Songs
Can you help with information/opinions about the choice of songs heard in My Mom's a Werewolf? Please click Here
The following song tracks were featured in
My Mom's a Werewolf
:
Track names in Bold are linked to a Soundtrack release.
You Bring Out The Werewolf In Me - Simon Stokes
Strong Love - Amy Hobin
Boy - Lorraine Peron
Fright Night - Joe Lamont
Love In The Modern World - Aarin Richard
Shaking The World - D.B. Night
Not Gonna Be All Right - The Original Sins
I'm Hanging - D.B. Night
Back Up To Zero - Lissa
Li'l Red Riding Hood - Midnight Ride
Silhouette - Dana Walden
Animal Attractions - Laura Creamer
Are We Missing Any?
Song Trivia
Do you know any interesting trivia about the songs used in My Mom's a Werewolf? Please send it in by clicking Here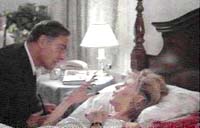 1989