Songs
The rare soundtrack featured songs from such artists as Gary U.S. Bonds, Steely Dan, Steppenwolf, Lynyrd Skynyrd and more... [Thanks to Jan]
The following song tracks were featured in
Mask
:
Track names in Bold are linked to a Soundtrack release.
Ripple - Grateful Dead
Are We Missing Any?
Song Trivia

Songs by Bob Seger were substituted in place of those by Bruce Springsteen shortly before the films release after failure to reach agreement with Springsteen.
The real Rocky loved Bruce Springsteen's music, however the director thought Bob Seger's music was a better fit for the movie.
Add some more trivia about the songs used in Mask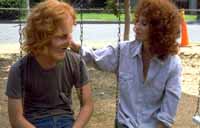 1985