VIBES
SOUNDTRACK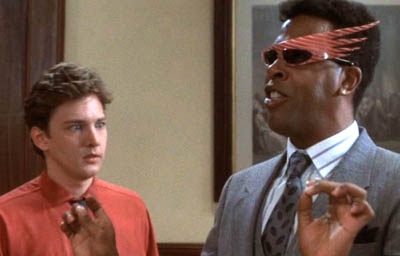 Songs
Three breathtaking pop tracks were used:

"Do You Dream About Me?" by Alisha -from the musical dance montage sequence (available on her out of print '87 solo-cd "Nightwalkin")

"Nothing's Gonna Stop Us Now" by Starship -used at the end of the movie and for the credits (available on their "Starship's Greatest Hits" CD)

"In My Wildest Dreams" by Belinda Carlisle -from the start sequence. The master tape for "In My Wildest Dreams" is believed lost, but a low-quality MP3 of the original studio version surfaced last year - it's available on YouTube, or officially as part of the bonus disc in Belinda's "CD Singles" box set compilation. Unfortunately the record label have deliberately chosen NOT to make the song available to purchase on it's own! [Thanks to Hamakei]

The non availability of this soundtrack has to be one of the single greatest crimes ever committed. Please, someone...?Update Us
The following song tracks were featured in Mannequin
highlighted
track names are linked to Soundtrack release info
Artists are linked if they appear in other featured movies.
In 1988, it was nominated for an Academy Award and a Golden Globe for 'Best Music' and 'Best Original Song' for "Nothing's Gonna Stop Us Now" by Albert Hammond and Diane Warren.
If anyone is interested Alisha, the original artist that sang "Do you dream about me", is now on myspace and the song is on her music player. Here is the link to her page. Hope you really enjoy this as much as I did when I found it.
Singers Mickey Thomas and Grace Slick of Starship performed lead vocals on the song, "Nothing's Gonna Stop Us Now". But when the song was performed at the Academy Awards, Grace Slick was unavailable (She left the band after their 1987 tour) and Mickey Thomas was left to duet with Gloria Estefan instead. Well, what's wrong with that?
Starship who performed the love theme "Nothing's Gonna Stop Us Now" filmed a music video for it with clips from the movie, which is sadly missing from the DVD release. The song, however, is a highlight of their 1987 "No Protection" album.

"Nothing's Gonna Stop Us Now" was written by Diane Warren who has also written songs for Meat Loaf, Celine Dion, Michael Bolton, Gloria Estefan, Rod Stewart, and (believe it or not) Aerosmith's "I Don't Wanna Miss A Thing".
Next Section: The Instrumental Music
Instrumental Score
Primary Composer(s): Sylvester Levay

Classic 80's synth instrumental music was by Sylvester Levay and features a wonderful love-theme piano-score throughout the entire film.Update Us
The following instrumental score tracks were featured in Mannequin
Composers are linked if they worked on other featured movies.
Know any interesting facts
about the Score used in Mannequin? Please
Update Us
Jump To: The Juicy Trivia!
Or use the menu to select another option
1987 20th Century Fox
1999-2018 fast-rewind.com
V4.0b Powered by Rewind C21 CMS