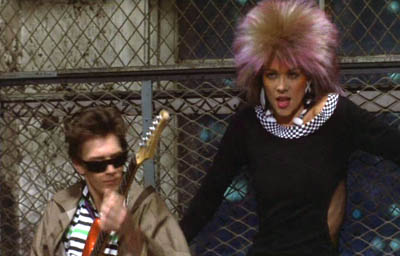 1987

Featured Movie Location:
"Prince & Co." Department Store
Wanna see the real life filming location used for
"Prince & Co." Department Store
in the movie? These scenes were actually shot at
John Wanamaker's Department Store
, located in Philadelphia,
Pennsylvania
. [
Google Map
]
Locations Manager(s):
Stephen Traxler
On Location
John Wanamaker's Department Store (now Macy's) was built in 1861. Wanamaker's was used as the 'Prince & Co.' location. It was also used in "Rocky II" and John Travolta crashed into the display window at the corner or Market Street and Penn Square in "Blow Out".
Rival store "Illustra" was portrayed by Boscov's Dept Store in Camp Hill, two hours away from Philadelphia on the PA Turnpike. Most of the decorations are nearly the same, though the store has since been expanded to take over 1/4 of the mall it is connected to! [Thanks to Gail Dull / Desiree]
Rittenhouse Square: Andrew McCarthy lived near the Dorchester Apartments. He also visited his (ex) girlfriend Roxy near the Dorchester Apartments on the southwest corner of the square.
At the intersection of Locust Street and 15th Street, you will find the former location of Dewey's Restaurant which was used for the 'fiery' restaurant meeting that Jonathan and Roxy have.
At the corner of Market Street and 11th Street is the Gallery (which spreads east to 8th St.). With more than 230 shops and restaurants under one glass roof, it is one of the largest shopping centers in the nation and the sub-basement was the setting for the climactic 'mannequin chopper' scene at the end of the movie.
The scenes where Andrew McCarthy runs up and down the steps at the Illustra store were filmed in Boscov's dept. store in Camp Hill, PA, outside of Harrisburg, PA. [Thanks to Kelly L]
I believe you can see the famous brass eagle on the main floor of Wannamakers in one of the aerial shots along with the great organ. Both were from the 1897 Centennial that and previous era Exhibition and purchased by Wannamakers. "The Eagle" in Wannamakers was a standard phrase known by all Philadelphians of that era. [Thanks to Charles Locke]
The store is now a Macy's and the Eagle is still there. [Thanks to Mike Reilly]
See any errors? Something we've missed? [Let us know]
Locations Links
If you know of a good link for Mannequin locations, please let us know.