Songs
This soundtrack used to be "disgustingly" rare with used copies fetching over $100!!
Thanks to Mr Gordy (Head of Motown Records), the soundtrack CD has been digitally remastered by Suha Gur (Universal Mastering Studios East, Edison, New Jersey) and re-released!!
Several Key tracks are extended from the LP versions to include a bit of instrumental score --although I can confirm this is the same as the 'disgustingly rare' original CD release from the 80s (Cat #: ZD72363) as this author has both versions...
You can now buy it through our "buying guide" page for less than $5 !!!
The following song tracks were featured in
The Last Dragon
:
Track names in Bold are linked to a Soundtrack release.
The Last Dragon - Dwight David
7th Heaven - Vanity
Star - Alfie
Fire - Charlene
The Glow - Willie Hutch
Rhythm Of The Night - Debarge
Upset Stomach - Stevie Wonder
First Time On A Ferris Wheel - Smokey Robinson, Syreeta
Peeping Tom - Rockwell
Inside You - Willie Hutch
Are We Missing Any?
Song Trivia

Last Dragon's Richard Perry-produced title theme was nominated for Worst "Original" Song at the 1985 Golden Raspberry Awards, as was Vanity's song "7th Heaven".
The song "Rhythm Of The Night" by DeBarge was the created especially for the movie and features prominently.
-Thanks to Nick
Featured DeBarge song "Rhythm of the Night", written by Diane Warren, reached #3 on the Billboard Hot 100 and #1 on the Billboard R&B charts.
Add some more trivia about the songs used in The Last Dragon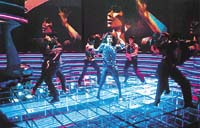 1985
Score Music
Composer(s):
Misha Segal
Can you help with information/a review of the instrumental music or score track names used in The Last Dragon?
Can you help with any of the instrumental score track names used in The Last Dragon?
Score Trivia

The instrumental music was written and conducted by Misha Segal, an Emmy® award-winning composer and accomplished recording artist, songwriter and producer. He was well known to Motown and Berry Gordy, having worked with many of their top artists.
Add some more trivia about the instrumental music used in The Last Dragon