TAIMAK is the real deal when it comes to martial arts. He has a Kung Fu school in White Plains, NY.
-Thanks to Glenn Magpili
More Trivia from The Last Dragon
The Last Dragon is a true 80's kitsch masterpiece!
There. I said it.
Sure, it's blaxploitation ten years too late, with inevitable Motown soundtrack and lots of lingo. We even have Michael "Car Wash" Schultz directing. But it's just so much fun! Made entirely in the manner of a movie comic book, the film creates a rich and wacky environment for its entirely 2 dimensional and endlessly quotable 'cardboard' characters.
Sounds odd?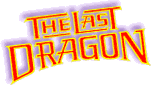 Well, it is. But it's in it's 'oddness' that the movie excels! This is pure, unadulterated entertainment -in the truest sense of the word.
Oh and another thing: This film has heart. And I'm not talking about the kind of contrived, peutrid marketing "heart" that is all too present in movies made in the last decade. I'm talking about a real heart that sneaks up on so you're smiling a lot more when its over than before it started.
We used to say that "
In the fashionable world of hip 90's films, a movie like The Last Dragon just wouldn't sell to the intended, late teen market. Columbia TriStar pictures, who made the movie in a rare partnership with Motown Records, know this and that's why it is no longer available to buy, on any format, anywhere on planet earth... along with it's Soundtrack.
"
Well... the fantastic news was that, in July 2001, this all changed!!!! The Last Dragon is alive and well. Not only was it released by Columbia TriStar home video on VHS and DVD with directors commentary... but the soundtrack was also remastered and re-released on CD too!
Thanks for this must go to all the loyal fans of the film who have never lost interest and to people like Steven Kent of MSNBC who, as a top news reporter, did a whole story on why it wasn't available, which no doubt helped prompt the studio not only to re-release it, but to do such a good job doing it. Thanks to all of you and thanks Columbia TriStar!
Keep glowing...
Okay, so it's probably not gonna be loved by everyone, but it's a great movie and a very definite slice of true 80's music and culture.
Notice any mistakes? Review
Strengths:
Great humor, culture and music. Genuinely different entertainment with real heart.
Weaknesses?
Some would argue that it's tied too closely to it's decade for it's own good.
Our rating:
9.6 out of 10
Review Written by Nick: Contact | More Reviews by Nick