Songs
What a great list of songs!
The following song tracks were featured in
The Last American Virgin
:
Track names in Bold are linked to a Soundtrack release.
Teen Angel Eyes - Tommy Tutone
De Do Do Do De Da Da Da - The Police
Whip It - Devo
When I Find You - Phil Seymour
Better Luck Next Time - Oingo Boingo
Are You Ready for the Sex Girls? - Gleaming Spires
Since You're Gone - The Cars
I Know What Boys Like - The Waitresses
Airwaves - The Fortune Band
I Will Follow - U2
Oh No - The Commodores
Open Arms - Journey
Keep On Lovin' You - REO Speedwagon
Just Once - Quincy Jones, James Ingram
That's the Way I like it - KC and the Sunshine Band
Love Action (I Believe In Love) - Human League
Shake it Up - The Cars
Sesame Mucho & Granada - Fabulous Paraguayas
It Aint Easy Comin' Down - Charlene
Zero Hour - Plimsouls
Oh No - Lionel Richie
Got To Be Sombody's Babe - Jackson Brown
In The Flesh - Blondie
When I Find You - Phil Seymour
Are We Missing Any?
Song Trivia

Throughout the movie, one of the best romantic songs ever created, 'Open Arms' by 'Journey' is played at least four times.
-Thanks to Paulina
Add some more trivia about the songs used in The Last American Virgin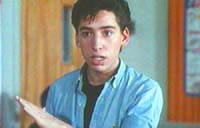 1982