Songs
Can you help with information/opinions about the choice of songs heard in Friday the 13th? Please click Here
The following song tracks were featured in
Friday the 13th
:
Track names in Bold are linked to a Soundtrack release.
Man Behind The Mask - Alice Cooper
Are We Missing Any?
Song Trivia
Do you know any interesting trivia about the songs used in Friday the 13th? Please send it in by clicking Here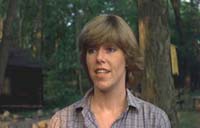 1980
Score Music
Composer(s):
Harry Manfredini
The soundtrack for Friday The 13th was released, but released after Friday The 13th Part 3. Grama-Vision Records released a album titled Friday the 13th Parts 1,2 & 3 with music from the first three films. [Thanks to Chad Wichterman]
Also several Halloween CD's have the theme, which is one of the greatest movie themes around, done by Harry Manfredini.
Can you help with any of the instrumental score track names used in Friday the 13th?
Score Trivia

The music in "Slaughter High" is very similar to the music in "Friday the 13th", with slight changes, even the music when someone or something going to happen.
-Thanks to ZepJP69
Add some more trivia about the instrumental music used in Friday the 13th