Songs
The soundtrack is mostly comprised of instrumental pieces created for the film, with the exception of Aretha Franklin's "Think" as well as the sultry "Blue Jean Blues" by ZZ Top.
The following song tracks were featured in
Fresh Horses
:
Track names in Bold are linked to a Soundtrack release.
Think - Aretha Franklin
Blue Jean Blues - ZZ Top
No Tomorrow - George Hawkins Jnr
Are We Missing Any?
Song Trivia
Do you know any interesting trivia about the songs used in Fresh Horses? Please send it in by clicking Here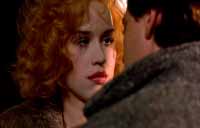 1988
Score Music
Composer(s):
David Foster
,
Patrick Williams
80s legend David Foster can always be relied upon to create a warm and magical score. Just click on his name above to see the sheer volume of quality work David contributed to the movies of the era. In this case, the score was done with another soundtrack maestro, Patrick Williams. Great stuff.
Can you help with any of the instrumental score track names used in Fresh Horses?
Score Trivia

David Mansfield was the original composer on "Fresh Horses". Although the director and producers loved what David had done, the studio wanted to go in another direction and rejected the finished score. Despite this, the unused score is still one of David Mansfield's personal favorites.
Pat Williams was then hired to write the score and David Foster collaborated with Pat on the themes.
-Thanks to Nick
Add some more trivia about the instrumental music used in Fresh Horses