Songs
The soundtrack is mostly comprised of instrumental pieces created for the film, with the exception of Aretha Franklin's "Think" as well as the sultry "Blue Jean Blues" by ZZ Top.
The following song tracks were featured in
Fresh Horses
:
Track names in Bold are linked to a Soundtrack release.
Think - Aretha Franklin
Blue Jean Blues - ZZ Top
No Tomorrow - George Hawkins Jnr
Are We Missing Any?
Song Trivia
Do you know any interesting trivia about the songs used in Fresh Horses? Please send it in by clicking Here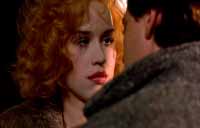 1988