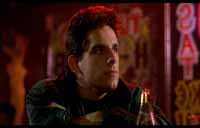 1988
Locations Manager(s):
Ryan Rosenberg
On Location
City scenes were filmed in Cincinnati, Ohio.
Many of the rural scenes were filmed around Alexandria, Boone County and Campbell County in Kentucky.
The ice-skating scene at the end was filmed at Kings Island Theme Park - 4688 Kings Island Drive, Mason, Ohio, USA.
I would have imaginged that the wooden rollercoaster seen earlier in the movie was filmed there too. But Jesse kindly wrote in to say that the wooden rollercoaster that Andrew McCarthy is walking on was called the "Screechin' Eagle". It was located at an amusement park called "Americana" or "LeSourdsville Lake" in Monroe Ohio. This appears to have also been used for the scene walking round the lake before he gives her the scarf. Thanks to Randy who wrote in to say that today the "Screechin Eagle" still stands, sadly, however, the park has been closed for some time and the coaster is in pretty bad shape. The lake at Americana has also been drained and is now nothing but an empty peice of land.
...And just where was that abandoned railroad shack? It was probably built just for the movie... But where?
Can you help? Do you know any of the Ohio (or any other) filming locations used for Fresh Horses? [Please send them in]
Locations Links
If you know of a good link for Fresh Horses locations, please let us know.