Songs
Can you help with information/opinions about the choice of songs heard in Back To The Future? Please click Here
The following song tracks were featured in
Back To The Future
:
Track names in Bold are linked to a Soundtrack release.
Power of Love - Huey Lewis & The News
Time Bomb Town - Lindsey Buckingham
Heaven Is One Step Away - Eric Clapton
Back in Time - Huey Lewis & The News
Wallflower (Dance With Me Henry) - Etta James
Night Train - Marvin Berry, The Starlighters
Earth Angel - Marvin Berry
Johnny B. Goode - Marty Mcfly, The Starlighters
Are We Missing Any?
Song Trivia

The music heard when Marty plays the tape during the "Darth Vader" scene is Eddie Van Halen, "Donut City". It is the same guitar solo that can be heard the 80s movie "The Wild Life" when Chris Penn falls out of his girlfriend's window.
The cassette tape that MJF pops in the Delorean is the music of guitar great Eddie Van Halen.
-Thanks to E. Jagnjic
Add some more trivia about the songs used in Back To The Future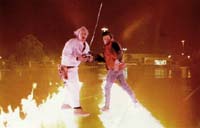 1985