Songs
Can you help with information/opinions about the choice of songs heard in Always? Please click Here
The following song tracks were featured in
Always
:
Track names in Bold are linked to a Soundtrack release.
Smoke Gets in Your Eyes - J.D. Souther
Boomerang Love - Jimmy Buffett
Cowboy Man - Lyle Lovett
Give Me Your Heart - Sherwood Ball, Denette Hover
Fool in Love - Michael Smotherman
Smoke Gets in Your Eyes - The Platters
Crazy Love - Van Morrison
Matzoh Balls - Slim Gaillard
Are We Missing Any?
Song Trivia

In the dance sequence at the bar, the keyboard player who plays Dorinda and Pete's song (smoke gets in your eyes) is JD Souther - singer/songwriter (famous for "you're only lonely" and songwriting for the likes of Bonnie Raitt, Roy Orbison, James Taylor, Crosby Stills & Nash, Warren Zevon and Joe Cocker.
-Thanks to Lynn Cooper
Add some more trivia about the songs used in Always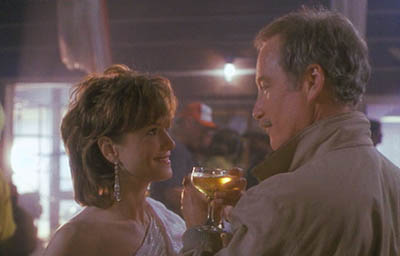 1989