Songs
The unforgettable "Boys are Back in Town" by the Bus Boys is still stuck in everyone's head to this day as well as Murphy's version of The Police classic "Roxanne".
The following song tracks were featured in
48 HRS
:
Track names in Bold are linked to a Soundtrack release.
The Boys Are Back In Town - The BusBoys
48 Hrs. - The BusBoys
Love Songs Are For Crazies - The BusBoys
New Shoes - The BusBoys
Torchyís Boogie - Ira Newborn
Are We Missing Any?
Song Trivia

The band playing at Vroman's, The Bus Boys, also appear on the soundtrack for the 80's classic, "Ghostbusters" with the song "Cleaning Up the Town." The Bus Boys were also the band that used to open for Eddie Murphy in the early 80's when he was still doing stand-up comedy.
-Thanks to Dave Crump
Add some more trivia about the songs used in 48 HRS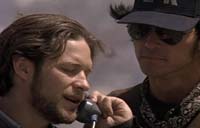 1982