FILMFACTS
PRODUCTION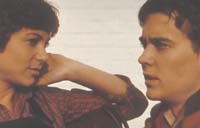 Production
Go behind the scenes on the 1980 Drama movie starring Timothy Hutton, Donald Sutherland, Mary Tyler Moore More Cast
We believe the following info is all legit. If it's bogus or you have additional info, please update us.
The first draft of the script took a year and a half to write and the 2nd took another year because it was difficult to adapt a novel with so much dialogue and very few descriptions of characters & settings.
Ordinary People was based on the novel of the same name, by Judith Guest.
Gene Hackman was originally cast to play Dr. Berger but couldn't follow through, he was replaced by Judd Hirsch who completed the filming of his scenes in 8 days so the film wouldn't interfere with the schedule of his show Taxi.
Elizabeth McGovern was a student at Julliard during filming. The school allowed her to do the film on the condition that she leave for Chicago each Friday night & return on Sunday, filming only on Saturdays. It was the first time Julliard had ever allowed a student to make a film during the school year!
What may be the biggest tragedy for the film's fans is that Robert Redford, reportedly, recorded an audio commentary for the film's initial DVD release in 2000. Mysteriously, Paramount didn't include it on the disc, and it was even absent on the 2006 reissue.
This was Robert Redford's directing debut.
Next Section: Deleted Scenes
Deleted Scenes
There are often scenes cut from the final version of a movie. Sometimes these will have been seen by preview audiences, or be included in Blu-ray or DVD extras etc.
The following missing scenes from Ordinary People are believed legit. If you disagree or have additional info, please update us.
As I followed the production to various locations as they were filming, assisting the camera crew whenever I could, they filmed a scene that doesn't appear in the final version of Ordinary People...

The deleted scene is The Lake Forest Day parade. Conrad watches the parade from the sidewalk near the Lake Forest Train Station. He was there in hopes of seeing Janene. And he avoided the leers from his swim team friends who marched in the parade with other Lake Forest High School students.

Incidentally, in this parade scene, Robert Redford (the director) made a quick cameo appearance as one of the High School teachers. In the scene he rides the Lake Forest High school floats. A picture of Robert Redford kicking back on the float appears in the 1980 Lake Forest High School yearbook. And more pictures from the filming of the parade were (and could still be) on the wall of Ferentino's pizza on N. Western Ave., a few blocks north of the train station.
Timothy Hutton and Judd Hirsch came in spoke and about the film when I was a student at Loyola Marymount University in 1981. They mentioned a scene that took two days to set up shoot that was ultimately cut for time.

The beginning and end of the scene are in the film. It takes place in Dr Berger's office when Conrad means to say his mother can't forgive him but inadvertently says he is the one who can't forgive.

In the released version Conrad goes from standing at a window having the revelation to a shot of him slumped in chair exhausted. In between was about 10-minutes in which he talks about not being able to forgive himself for trying to kill himself and not being able to forgive his mother (neither point is clear in the released version).

The scene was difficult to shoot as Robert Redford had the camera mounted on a circular track surrounding the actors. The entire deleted portion of the scene had the camera going in a continuous circle around them as they delivered their dialogue. You can see just a bit of this camera movement as Berger delivers the line "A real problem with a real solution." To which Conrad responds, "I've heard all this before."

I don't know if this scene has ever shown up on any of the VHS or DVD releases. It would be great to see it restored. Once you know that it was cut when you watch the scene as it was released it seems very choppy and unclear.

Trust me you'll notice this next time you watch it.
Next Section: Alternate Versions
Alternate Versions
Sometimes, there will be several versions of a movie floating about on cable, tv or video etc. Other times, a Director may release a special cut of the movie on Blu-ray or DVD.
Aw, man.. We don't know of
any
alternate versions of "Ordinary People". If
you know
better, please
add one
for others to enjoy.
It's quick & easy
Jump To: Filming Locations
Or use the menu to select another option
1980 Paramount Pictures
1999-2018 fast-rewind.com
V4.0b Powered by Rewind C21 CMS