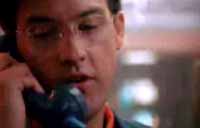 1988
Locations Manager(s):
Ross Fanger,
Kristi Frankenheimer
On Location
The movie starts at the George C. Page Museum in Hancock Park, where Harry first meets Julie, then outside at La Brea Tar Pits.
The dinner where Julie works and Harry gets the phone call is "Johnie's Coffee Shop", located on 6101 Wilshire Blvd. Built in 1955 in the Southern-California "Googie" style, it was first called "Romeo's Times Square" (one can hear a character actually say that when Harry first enters the diner). It has been closed since year 2000 but is still rented out to film crews. It was featured in movies like "Reservoir Dogs" (1992), "American History X" (1998) and "The Big Lebowski" (1998). [Thanks to Patrice Bulat]
Miracle Mile was partially filmed in an area of Los Angeles actually known as the Miracle Mile.
The Pan Pacific Auditorium (most famously seen in Xanadu) was also used.
Can you help? Do you know any of the S. California (or any other) filming locations used for Miracle Mile? [Please send them in]
Locations Links
If you know of a good link for Miracle Mile locations, please let us know.