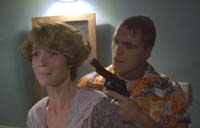 1988
Locations Manager(s):
William Buck, Kevin McAteer
On Location
For once a movie set in Kansas was actually filmed in Kansas.... in Lawrence, Topeka, Valley Falls and Edgerton.
The bank and parade sequences were shot in Valley Falls, Kansas.
The fair where the governor speaks at the opening of the film was shot in Edgerton.
The scene at the fair in the rain was shot in Overbrook, Ks at the Overbrook-Osage County Fair. I was an extra in the fair scene.[Thanks to Tiffany]
The train sequences were shot in a railyard in Topeka.
The main farmhouse scenes were shot at the ranch of a man named Reed Byers in Gardner, Kansas.
One shot was done in Lawrence, when Matt Dillon visits Alan Toy, the reporter tracking him. [Thanks to McGee]
The scene where Matt Dillon walks out of the bar after taking the guys keys was shot in North Topeka on North Kansas Ave. [Thanks to Michael Fox]
Can you help? Do you know any of the Kansas (or any other) filming locations used for Kansas? [Please send them in]
Locations Links
If you know of a good link for Kansas locations, please let us know.