PLACES
LOCATIONS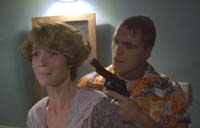 Locations Notes
Rewind the locations where they filmed the 1988 Action / Adventure movie starring Matt Dillon, Andrew McCarthy, Leslie Hope More Cast
Locations Manager(s):
William Buck, Kevin McAteer
Kansas Filming Locations:
For once a movie set in Kansas was actually filmed in Kansas.... in Lawrence, Topeka, Valley Falls and Edgerton.
The bank and parade sequences were shot in Valley Falls, Kansas.
The fair where the governor speaks at the opening of the film was shot in Edgerton.
The scene at the fair in the rain was shot in Overbrook, Ks at the Overbrook-Osage County Fair. I was an extra in the fair scene.[Thanks to Tiffany]
The train sequences were shot in a railyard in Topeka.
The main farmhouse scenes were shot at the ranch of a man named Reed Byers in Gardner, Kansas.
One shot was done in Lawrence, when Matt Dillon visits Alan Toy, the reporter tracking him. [Thanks to McGee]
The scene where Matt Dillon walks out of the bar after taking the guys keys was shot in North Topeka on North Kansas Ave. [Thanks to Michael Fox]
At the end of the movie the train scene and the driving on the gravel road scene were filmed along the north side of US 24 Highway between the cities of St. Marys and Rossville. [Thanks to Paul]
Can you help? Please

Update This
Locations Links
If you know of a good link for Kansas locations, please let us know.
LX Preview
LX is our radical new locations feature that we've been beavering away on.. For years!

Each location will have it's own page with then/now pictures, maps, StreetView, discovery story and the most detailed explanations on how the location was used. Most importantly, the locations will have a status that shows whether they are verified correct and by whom. We are working with the actual locations managers or other crew where possible. The whole thing will be very interactive and you will, of course, be able to update everything.
Jump To: Bungles & Goofs
Or use the menu to select another option
1988 Trans World Entertainment
1999-2018 fast-rewind.com
V4.0b Powered by Rewind C21 CMS