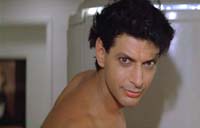 1989

Featured Movie Location:
The nightclub
Wanna see the real life filming location used for
The nightclub
in the movie? These scenes were actually shot at
Griffith Park Observatory
, located in Los Angeles,
S. California
. [
Google Map
]
Locations Manager(s):
Donald A. Potts
On Location
San Dimas, California and the area at the end of the 210 Freeway were also used extensively.
The Woody Station Wagon crashes thru the giant donut at is Randy's Donuts 805 W. Manchester, Los Angeles [Thanks to Chris]
Can you help? Do you know any of the Los Angeles, S. California (or any other) filming locations used for Earth Girls Are Easy? [Please send them in]
Locations Links
If you know of a good link for Earth Girls Are Easy locations, please let us know.