About This Website -Updated 24th Nov 2004
---

About the author of this site and why he chose the Karate Kid Movie as its subject and future projects...
We're Over 5 Years Old!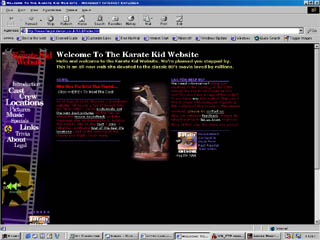 --The Karate Kid Web Site When First Launched in 1999.
Wow... What a journey...

As I write this (24/11/04), just a few days ago Columbia TriStar Home Entertainment announced a new box set of the Karate Kid DVD's for release in feb 2005. This set includes a special edition release of the original movie. In just a couple of months we will be treated to a wealth of information on the movie via a commentary with director and stars as well as a documentary on the making of the movie...

...I'd like to think that, in these 5 years, we've played our own little part in keeping the Karate Kid legacy alive and persuading the studio to commit to this release...

It seems much longer, but it's been just over 5 years since the Karate Kid Web Site opened its doors for the first time at the old URL on 6th August 1999.

Just two months before that I was standing on the beach where Daniel and Ali met, at Leo Carillo State beach in LA County, which was about the 4th KK filming site that I had found, thinking that these wonderful filming locations should be shared with other people on the web.

Since the launch we have added many sections including the "Vanished Scenes" and Merchandise sections, as well as covering the sequel and adding many hundreds of updates to every single area of the site --including the most releantless persuit of the locations possible.

Our grateful thanks to all of you who have written in, helped out or visited regularly and made this site the clear number 1 for this classic movie.

In addition to updates to this site, we have added similar sites for "The Secret of My Success", "Breakin'", "The Last Dragon WebSite" and, of course, our proudest moment, the hugely popular "80's Movies Rewind" and most recently it's "70s Sister Site".

For those who are curious about these things, In January of 2000, a few months after being launched this site received over 5,000 seperate visitors. In October of 2004, throughout all of our sites, this had risen to over 590,000 retro fans, generating in excess of 43 million hits! We're very proud to serve so many people the information they're looking for on our favorite decade and even more proud that the feedback you give is so positive.

I can't help but mention how great everyone has been and what a pleasure it has been in these years. We couldn't have hoped for a more friendly, kind, helpful & postive bunch of visitors... Be assured that we will continue to strive to become the #1 destination for retro film fans. "For the people, by the people...."

We make no profit whatsoever. We are film fans, just like you who wanted to create decent sites to celebrate our favourite movies.

About The Author?
Dear Visitor,

Thank you for stopping by. I am original creator and the main author [or maybe editor is better!] of this site, Nick Alaway, senior webmaster of Fast-Rewind.com. I am, at the time of this revision, 36 and still vividly remember seeing The Karate Kid in 1986 on video.

Having researched and found some of the locations used in the film during a few trips to Los Angeles, I thought it would be nice if this information was published on the web. Having offered the locations information to the webmaster of the most popular Karate Kid site at that time and not even received a reply, I decided to do it myself.

Ultimately, I decided that the movie was worthy of a proper research effort and so I set about researching the various personalities and situations that led to the creation of this classic movie. The results, you see here. Not perfect -I'm always seeking more info... please write to me if you have something to add. There truly are millions of fans of this movie, and they all want to know!

The main thing that seperates fast-rewind.com from the bulk of movie sites on the net is that it is a true collaboration between movie fans and fans of the 80s. I may have started it, but it now is the product of literally millions of people. Without the brilliant efforts of so many, the sites wouldnt be one tenth as good as the rich source of information they have become.

This was my first movie-related website. Previously, I had designed my companies corporate website. Since then I have suffered to bring several other 80's web sites (see above) including my own, personal 80s labor of love, the huge 80's Movies Rewind project -launched in April 2000 and it's 70s sister site launched some years later. It hasn't been easy, but I was determined that this classic decade be shown in the most positive light and receive the credit that it deserves.

"The decade of greed" is a phrase best left to the mainstream journalists who are too 'cool' to admit that they love it too. In my opinion, the 80s was bright, vibrant and fun, containing the most diverse and excellent mix of movies ever. No wonder so many people enjoy this guily pleasure.

I hope you enjoy all these sites! ...And, once again, thanks for visiting.. :)
-Nick
-Nov 23rd 2004
Why Karate Kid?
Many people might wonder why I would go to such trouble for a movie that is 15 years old and some would think probably best forgotten... The answer is that although in the 90's the movie might seem cheesy, it has a refreshing unpretentious style and still represents good entertainment --and a refreshing change from the grungy 90's style of movie delivery. A quick scan of the net will show that I am not alone in missing the kind of honest, naiive movies that were so common in the 80's.
The 90's has been an altogether 'harder' decade with people more worried about their own image and, importantly, whether they 'conform' to the cool social stereotypes. That is fine, and the 90's has produced some good. cool entertainment. But the 80's was a decade where anything seemed possible, being different was cool and there were a large number of movies made with a genuine 'feel good' factor. In the 80's people weren't afraid to enjoy a piece of entertainment for what it was...entertainment... and I sincerely hope that we find a way to return to a place where those naiive innocent movies are 'cool' again.

Thanks...
Many thanks to the "friends of the Karate Kid Website" who have written in with info to share:- Vanished Son [aka: Simon Barber], Jared Keller, Jon Hertzberg, Clover Paek, Matt H, Jeremy Cating, Joshua Lober, Jose Artiles, Chris Lozano, Will Nichols, Jr; Troy and any others that I have forgotten.

Thanks also to the many of you who have written in with kind words of encouragement and support. I do read all the mail, even if I can't respond personally to every single one because there just isn't time. So if you have written in, my thanks to you :-))

Future Projects?-UPDATED
Having launched what has grown to become the clear #1 for 80's movies at www.fast-rewind.com on 2nd April 2000, we have since added a sister 70s site and are striving to make these better and better every day... But I still have a burning desire to do a site like the Karate Kid site for both "Dirty Dancing" and "Can't buy Me Love"... Maybe one day... :)

---
©1999 Fast Rewind WebSites. All Right Reserved.