REWIND
REVIEW

"
They Take War To A New Dimension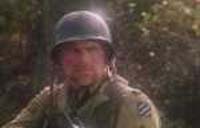 Starring
Tim Thomerson, Timothy Van Patten, Art LaFleur, Biff Manard
William Paulson, Peter Boom, Max Turilli, Eugene Brell, John Leamer, Bruce McGuire, Alviero Martin, Mike Manderville, Achille Brugnini, Ole Jorgensen, Peter Hintz, Joshua McDonald, Anita Zagaria Update Cast
Danny Bilson co-wrote and directed Zone Troopers. This was his first directorial effort having written "Trancers" the year before in 1985. In the 90's he was sadly relegated entirely to TV. Born and raised in Los Angeles, Bilson earned a Bachelor of Arts degree in theatre at California State University at San Bernardino. There he met Paul DeMeo and their friendship soon developed into a successful and productive business collaboration. Out of college, the duo did everything they could to forge an entry in the movie business including appearing as extras and working on production crews until they got their first important credit. Breaking into independent films, they produced their first script "Trancers" starring Helen Hunt and Tim Thomerson in a noirish tale of Jack Deth, a Sam Spade-like detective from the 21st century.
More Trivia from Zone Troopers
Review
ZONE TROOPERS was another great "B" picture from the prolific Charles Band (of "PUPPET MASTER" movie series fame). This film was made in Europe and was a great fusion of WWII war action with pulp sci-fi.

The period music by Richard Band was particularly delightful, as was the well presented 1940's dialogue (my father was a WWII vet himself, so I was accustomed to some of the colorful phrases in the film).

Tight editing in the action scenes enhance the picture, as does the interweaving of humor with believable, relaxed performances.

Only quibbles- the "Lost In Space" style space ship the Zone Troopers arrive in and the corny, 70's TV Show sounding incidental music. Mr. Band and Mr. Bilson must have blown their cash on the "bug's" conveyance, for the Zone Trooper ship was ineffectual, and Richard Band seemed much more interested in the Big Band music in the film and just used "throw-away" music for the other incidental score.

Remember:

"Butt me, Mittens"!

"Did I just K.O. Hitler?"

Following is the write-up from the back of the original VHS cover box:

FROM THE PRODUCERS OF GHOULIES, TRANCERS AND RE-ANIMATOR COMES A WAR MOVIE LIKE NO OTHER!

"An outlandish blend of World War II combat and alien invaders, ZONE TROOPERS Stars TIMOTHY VAN PATTEN (CLASS OF 1984) and TRANCERS veteran TIM THOMERSON as two G.I.'s trapped behind enemy lines. Hitler's forces are rapidly approaching and all hope seems lost, until the Americans discover the wreckage of an alien spacecraft with one of its crew still alive.

It's 1944, somewhere in Europe. Sarge, Mittens, Joey and Dolan are the only remaining survivors of a German ambush.

Stranded in the wilderness they're cold, tired and ready to fight for their lives. They were prepared for anything— or so they thought. Bizarre radio signals and a loud bang announces the crash landing of an alien spacecraft. When the men reach the wreckage they discover that the pilot is dead, but the co-pilot is alive and lost somewhere in the wilderness.

The four G.I.'s split into two's to search for the alien. Mittens and Dolan find the alien but the real test comes when they must face an entire battalion of intergalactic warriors called ZONE TROOPERS, sent to rescue their comrades.

ZONE TROOPERS are ready to fight. It's a fight no one, American or German, is ever going to forget."
Author:
Keith Duncan
Update This Review
Verdict
Good video entertainment. Not a classic, but hellatiously fun all the same!
Great Performances. Good Script- especially the Dialogue. Great use of limited funds; Good On-Screen Value Make Up Effects. Good For the 80's and for The Money

Special Visual Effects Only Fair
Zone Trooper Spaceship Unconvincing
Non-fans of pulp science fiction might not appreciate this film as much as pulp fans would
Non-Big Band parts of film score corny and vacuous
Rewind Rating
The Movie Data
Jump To: Music & Soundtrack Vibes
Or use the menu to navigate
1986 Altar Productions
1999-2020 fast-rewind.com
V4_27 Powered by Rewind C21 CMS