REWIND
REVIEW

"
Six reasons why the west was wild.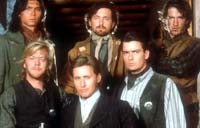 Starring
Emilio Estevez, Kiefer Sutherland, Lou Diamond Phillips, Charlie Sheen
Dermot Mulroney, Casey Siemaszko, Terence Stamp, Jack Palance, Terry O'Quinn, Sharon Thomas, Geoffrey Blake, Alice Carter, Brian Keith, Thomas Callaway, Patrick Wayne, Lisa Banes, Sam Gauny, Cody Palance, Gadeek, Victor Izay Update Cast
Cameos
Look for Tom Cruise making a cameo appearance!
Young Guns is one of the few movies whose sequel more than lives up to the original, Young Guns II: Blaze Of Glory is an excellent follow up, and is easily Christian Slater's best performance in any film.
More Trivia from Young Guns
Review
Emilio Eztevez stars as infamous outlaw William H. Bonney a.k.a Billy The Kid, who, with the guidance of his benevolent teacher John Tunstall (masterfully underplayed by Stamp) leads a group of outsiders who make a quiet stand against the feudal oppression dealt out by local hood Lawrence G. Murphy (Jack Palance, always excellent as the leering villain).

When Tunstall is brutally murdered on New Year's Day, The Regulators are promptly deputised, only to kick-start a wild spree of retribution hits (thanks to Billy of course!) and in a matter of days they have everyone from Murphy's men to the State Troopers on their case, thus beginning a frontier war that can only end in ultra-violence.

Young Guns was a brave attempt to reinvent an old genre with the 80's Brat Pack.
Author:
Kashif Ahmed
Update This Review
Verdict
Clint Eastwood had already emptied a few hundred barrels of lead into the high-concept Western, along with super-director Sergio Leone, he'd done it all: The Man With No Name had cleaned out every beer swigging lowlife from a dozen ghost towns across New Mexico, Clint had also directed his own, off-beat westerns, with the atmospheric High Plains Drifter and the moralistic Pale Rider…so it came as little surprise when people had their doubts about "…that guy from the Breakfast Club" playing cowboy with a quintet of pretty boy actors and some old geezer …but in the time honoured tradition of movie magic; Young Guns came out blazing, to score as one of the greatest westerns of all time.

Besides the Eastwood classics, I've never really been a fan of westerns, reason being is because they're formulaic and rely too heavily upon a set of unchangeable conventions: One of the main differences about Young Guns, is that it's essentially a character driven film, which just happens to be set in the wild west, the acting is second to none, with career bests from Mulrooney, Estevez and Phillips, each character has a unique motivation, tied in with their mutual loyalties to Stamp, everything about them seems realistic in accordance to the time: Chavez (Phillips) is a vengeful native American whose learnt to channel his fury, "Dirty Steve" Stephens (Mulrooney) and Charley Bowdre (Siemazo) play tobacco chewing hicks who are keen to improve themselves, there's the religious Richard Brewer (Sheen) whilst Josiah Gordon "Doc" Scurlock (Sutherland) is a poet inadvertently drawn into the bloodbath, driven, by his love for an imprisoned Chinese maiden and then there's Billy The Kid himself, in awe of his pursuer Pat Garret, Bonney takes up violence and mayhem as a way to prove himself an equal/absolute opposite to Garret.

Young Guns gives us both the complexities of each character, alongside a non-stop bullet festival which tears up the scenery and always keeps the viewer on edge, in fact, the final shootout echoes John Woo (circa 1987) and the very best of Sam Pekinpah and means that Young Guns escapes the tag of 'Brat pack vehicle' to become an all out mini-masterpiece. The Movie does well not to glamorise violence or to portray Billy as either a folk hero or a maniac, instead, Young Guns has these people in a situation and leaves it up to them to get out, leading us to consider every aspect and ask ourselves how we'd react in similar circumstances. Saddle up for Young Guns; as there's the manic Estevez laugh which follows almost every shootout, a rare chance to see brothers Emilo and Charlie act together…and although I'm not too sure about the benefits of peyote, it seemed to work for Lou Diamond Phillips! Almost outdone by its sequel: Blaze Of Glory, Young Guns is an enjoyable and atmospheric western.
An involving movie with some fine acting, good (2-guns) action, and some fast paced storytelling.

Charlie Sheen could've had a greater part, as the rivalry between his character and Billy seemed to be getting interesting…other than that, no real weaknesses.
Rewind Rating
The Movie Data
Jump To: Music & Soundtrack Vibes
Or use the menu to navigate
1988 20th Century Fox
1999-2020 fast-rewind.com
V4_27 Powered by Rewind C21 CMS