REWIND
REVIEW

"
For anyone who's ever won. For anyone who's ever lost. And for everyone who's still there trying.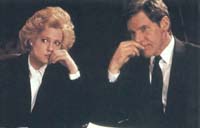 Starring
Harrison Ford, Melanie Griffith, Sigourney Weaver, Alec Baldwin
Joan Cusack, Kevin Spacey, Philip Bosco, Nora Dunn, Oliver Platt, James Lally, Robert Easton, Olympia Dukakis, Amy Aquino, Jeffrey Nordling, Elizabeth Whitcraft, Maggie Wagner, Lou DiMaggio, Georgienne Millen, Caroline Aaron Update Cast
Early Appearances
See Kevin Spacey before they were famous!
Cameos
Look for David Duchovny, Ricki Lake making a cameo appearance!
Working Girl was born, when the screenwriter and the producer were walking round a packed Manhattan street. "Everywhere we looked," explained the producer Douglas Wick, "Kevin and I noticed smart-looking, pretty young women rushing to work in tennis shoes and carrying high heels. We started talking about them and realized that they all must have a story. Kevin went to work on the idea right away."
More Trivia from Working Girl
Review
This amusing romantic comedy directed by Mike Nichols is a classic Cinderella tale of a twenty something, going nowhere secretary blossoming into a quick witted, intelligent, business minded senior executive.

All it takes is a few deceptions, a haircut and some shoulder pads to make her dream a reality!

Tess McGill (Griffith) a bright working class girl whose job as a secretary frustrates rather than fulfils her. She has a head for business and a body for sin, or so she tells us at the beginning of the film. Her mind is certainly full of bright ideas to make money in the high-flying, cut-throat world of high finance. However, her boss, duplicitous, ice maiden Katherine Parker (Weaver) does not take Tess seriously for a number of reasons; her background (too trailer park), her hair (too candyfloss) and her voice (just too silly…). So when Weaver breaks her leg on a skiing holiday leaving Tess in charge, it's an opportunity that can't be missed!

Stumbling across one of her ideas, which her boss has written up as her own spurs Tess into taking action. Masquerading as the boss, Tess meets with Jack Trainer (Ford) who she drunkenly ends up in bed with that evening and in a meeting with the next morning.

Here follows a trail of makeovers, business meetings and tense moments of Tess 'nearly being caught'.

I won't tell you anymore about the plot as it's definitely worth watching and is a classic example of the 80's work ethic coupled with fine examples of 80's fashion and some fabulously over the top 80's hairstyles… Brian May eat your heart out!
Author:
Kelly Fitzgerald
Update This Review
Verdict
An enjoyable film and possibly the best of Melanie Griffith's career. Well worth watching, especially if you're planning to overthrow your boss!
Wall Street for girls meets Pretty Woman!

Probably not lapped up by the action movie fans!?
Rewind Rating
The Movie Data
Jump To: Music & Soundtrack Vibes
Or use the menu to navigate
1988 20th Century Fox
1999-2020 fast-rewind.com
V4_27 Powered by Rewind C21 CMS