REWIND
REVIEW

"
He only had to walk two blocks...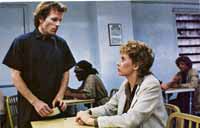 Starring
Kate Nelligan, David Dukes, Judd Hirsch, Stockard Channing
Early Appearances
See William H. Macy before they were famous!
Review
Every so often, you wander into the movie theatre with little or no expectations of a film and find yourself being blown away.

WITHOUT A TRACE, a 1983 drama starring Kate Nelligan and Judd Hirsch (of TAXI fame), falls into this category. Though twenty years have passed now, I vividly remember the tears which streamed down my cheeks at the end of this highly emotional masterpiece.

The story begins quite simply with a young boy getting ready, then being sent off to an ordinary day of school. That afternoon, his mother (Nelligan) waits for his return. Soon however, it becomes terribly apparent that this will be no ordinary day. She learns that her son never made it to his destination... a trip that only required him to walk one block while in full view of the school's road guard.

Judd Hirsch plays the detective that comes in to investigate. His is the wonderfully understated performance of a man slowly realizing that no ransom call is coming and there are almost no leads whatsoever.

The sad and horrifying part of TRACE comes not at the beginning, but in the film's middle, when we watch a mother having to cope with the fact that police, media and everyone else who had swarmed into her life at the outset of this tragedy, are now abandoning hope of a happy ending and leaving her to face it alone.

Stockard Channing (of GREASE infamy) plays Nelligan's closest friend and it is their confrontations that provide some of the film's biggest emotional sparks. When Channing asks, "When are you going to learn to let go... for your own good?" Nelligan incredulously replies: "When I can't stand any more. When I can't stand any more! And not one minute before then..."

Some have said that the film's end is a cop out, but I think differently. In my opinion, it is the finale that cements TRACE as one of the overlooked gems --not only of the 80s-- but of all time...
Author:
Tony Davis
Update This Review
Verdict
If you like drama, FIND this film (though that is not at all easy in the video stores where I live). It is a great film, although one which has very little to do with 80s culture (It's no Pretty In Pink). Stick around for the last 15 minutes. You'll be glad you did!
Nelligan, Hirsch, and Channing's performances.
The final 15 minutes!

Slow in the middle. Some would say the end is
corny.
Rewind Rating
The Movie Data
Jump To: Music & Soundtrack Vibes
Or use the menu to navigate
1983 MGM / UA
1999-2020 fast-rewind.com
V4_27 Powered by Rewind C21 CMS