REWIND
REVIEW

"
It's about the things you'll always remember and the year they'll never forget!
Review
After seeing Welcome to 18, you might be confused.

Was this film really made? Yes.

Does it have today's big stars in embarrassingly vapid scenes of Hollywood Teendom? Yes.

Is it vacuous and cheap? Yes, it is.

Is it wonderful? Absolutely!

If you love the '80's, you will love "Welcome to 18". A pinnacle of cheeseball teen melodrama, this film is the Ying to John Hughes's Yang. Welcome to 18 stars Courtney Thorne-Smith (Revenge of the Nerds II, Melrose Place, Ally Mcbeal) as the smart but blonde ringleader Lindsey; Mariska Hargitay (Jocks, Law and Order: Special Victims Unit) as the athletic brunette tomboy Joey; and JoAnne Willette (Just the Ten of Us) as the peppery fag-hag fashonista Robin, who pines for her deleted-scene boyfriend, the motorcyclist "Pipes".

Friends, this is 80's fluff at its true peak. Forget the Babysitters Club. Forget Sixteen freakin' Candles. Welcome To 18.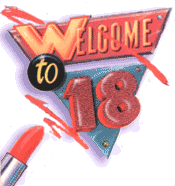 This flick plays like an after school special, with hard-learned lessons about drugs, love and adulthood. Our heroines are all graduating Los Angeles seniors and the first time we see them they are cavorting, innocently, in their under-pants, toasting "To guys!" They are resolved to spend their first summer as adults working a dude ranch in Nevada, but of course, that doesn't quite work out. They fall in with some tough customers, a shady "businessman" named Roscoe and his best girl, the battered Talia. When the evil old cow-women at the ranch bilk our girls out of half their paychecks, Roscoe scores some bogus ID's and puts them to work in his Lake Tahoe casino.

Unfortunately for Joey, the girls are working in Roscoe's basement as well. In a surprisingly revealing scene, Roscoe tapes her in the shower (or, rather, tapes her obvious body double in the shower), as he tells the guy on the phone "No, add three kilos to that!" The girls are invited to a party, where they find "hookers". Lindsey is given a fifty-dollar bundle of cocaine when she asks the barman for "just Coke"; and Roscoe is playing Joey's shower tape on the closed circuit television! What a jerk! Then the cops bust the party, rounding up the girls and throwing them in the slammer! What a summer this is turning out to be!

So, after a few antics, the girls get out, Talia shows up with a black eye and things start to go south. The girls owe Roscoe some green for the bail and he snatches Lindsey's convertible as collateral! That creep! Then he intimidates Talia into coming back to him. That scoundrel! What will our precious and precociously blonde leader Courtney do? Why, team up with the flaming Drag Queen named "Fusia Blue" in the cabin next door, put on a ridiculous stop-sign-red shoulder-pads-and- pumps "bad-girl" costume, pawn some of Talia's jewels and enter an illicit, underground poker game as a flashy "broad" named Cassandra! I mean, what else could you do?

I won't spoil the ending for you; you should see this gem for yourself. I have never seen an '80's Teen Girl movie with this kind of potent spunk.

One of the reasons this film comes off so "pleasantly dated" is its kick-ass soundtrack. There are eleven distinct musical montages (!), and for some reason the music is cranked all the way up in the mix. Seriously, you have to turn down the volume every time the tunes start up and they start up eleven times. Eleven! Jeez! We see a training sequence, then a road sequence. A "hard at work" montage, then a "love" montage. The breaking of the film into segments like that throws you the first time you watch it, I was convinced it must have been a mini-series that was cut together. -It isn't.

Welcome to 18 is a sugarcoated diamond. For those of us who seek out the incongruous as a method of revealing the totality of social history, it shines an exuberant light on the timeless problem of a dawning adulthood, and by offering an "addictive context" in which to operate, grants rewards to those with the dedication and courage to view it multiple times. And it's got World Famous Stuntman "Judo" Gene LeBell as a motorcycle cop with billowy white underwear on his head!

Movies like "Welcome to 18" are the gold coins in the sand we know that one day we'll find, if we keep the faith and keep at it with this metal detector we call Fast Rewind. Let them damn kids stare all they want. They just don't understand what we're looking for.

Call me a geek. Call me a fairy. Call me whatever you want. I'm a strong man, and I can't stop watching this movie about naive teenage girls on a summer odyssey in Lake Tahoe. I couldn't stop even if I wanted to.

That is the power of Welcome to 18... and it is not to be missed!
Author:
Morgan Tisdale
Update This Review
Verdict
An experience in 80's Teen Girl nostalgia you'll never forget.
Great cast, great cheesy dialogue.

Bad sound mix.
Rewind Rating
The Movie Data
Key Crew
Director: Terry Carr
Writer: Terry Carr, Judith Sherman Wolin
Producers: Bruce W. Brown, Cheryl Downey, Kathleen Lawrence, David C. Thomas
Locations Manager:
Update The Crew
The Movie Trailer
Jump To: Music & Soundtrack Vibes
Or use the menu to navigate
1986 Summer Release
1999-2020 fast-rewind.com
V4_27 Powered by Rewind C21 CMS