REWIND
REVIEW

"
Hard hat days and honky-tonk nights.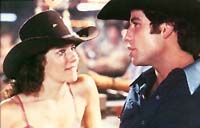 Starring
John Travolta, Debra Winger, Scott Glenn, Madolyn Smith Osborne
Cameos
Look for Johnny Lee, Bonnie Raitt, Charlie Daniels, Taz Di Gregorio, Charlie Hayward making a cameo appearance!
Gilley's closed on March 30, 1989 after Gilley and Sherwood (co-owners) went to court. The nightspot burned down later that year, supposedly from arson. The only buildings left standing were the recording studio, indoor rodeo building and shed.

Since then, the rodeo arena has now been demolished and the land is fenced off and is owned by the Pasadena Independent School District. I went there many times when I was younger and I miss the place. I wish it was still open and like it was.

The recording studio also burned down mysteriously and the property has grown up by brush. There is nothing left there that anybody would recognize as Gilleys anymore.
More Trivia from Urban Cowboy
Review
You've gotta "Yipee ki yi yay" and saddle up if you wanna have fun, Partner! Any "Real Cowboy" knows that. The question is, are you a real cowboy? 'Cause that's all that matters in this film based on an "Esquire" magazine story written by Aaron Latham and directed by James Bridges. Only a real cowboy gets the prettiest girl in Texas and the respect of every two-stepper in Houston. Of course, you've gotta proove your "cowboyness" and let me tell you Partner, it aint as easy as it looks. Sometimes, you have to find out about life the hard way.

John Travolta plays the lead role in this honky-tonk classic. The film revolves around Bud (Travolta) and Sissy's (Debra Winger) tumultuous, rough-and-tumble country romance in Houston, Texas; where beer is better than wine and a Stetson is hipper than any Fedora.

All Bud wanted out of Houston was a job at his Uncle Bobs (Barry Corbin) oil refinery, but he ended up with a lot more. Easy women, good beer, dancing at Gilley's Night Club.... a wife. A beautiful little country bumpkin by the name of Sissy, who like most Texas girls, is lookin' for a real cowboy.

After a couple of dates in which they barely get to know one another, the two tie the knot "Country Western" style and start what initially seems to be the perfect small town marriage in a trailer all their own. However, it takes no more than a week for these two newlyweds young love to go awry.

Bud has a temper which clashes with Sissy's stubborn demeanor and the two decide to call it quits after making each other jealous with raven-haired cowgirls and rough-neck cowboys. Bud now has himself a beautiful up-town girl (Madolyn Smith) named Pam, who although is good looking is a bit shallow and falls short of the charasmatic Sissy. Sissy has lasooed herself a wild ex-con named Wes (Scott Glenn) who strikes up a rivalry with Bud and plans to rob Gilleys.

Throughout the film Bud and Sissy remain seperated, but secretly long to be back together. The two try to impress and outdo one another by becoming pros on the mechanical bull which has stirred up many a fight at Gilleys Night Club.

Though they thought breaking up was for the best, everything seems to go wrong. Bud's beloved Uncle dies in an accident at the oil refinery and Sissy's new cowboy Wes has become physically and emotionally abusive. It's up to Bud and Sissy to turn things around and make a better life for one another, which they eventually do and the viewer is made very happy by the outcome of this Southern Drama.

I don't want to give too much of this film away, because personally I feel it is one of the best films made which incorporates a country western theme. Debra Winger as Sissy is spectacular, as always and John Travolta's character Bud has a stubborn, immature way of handling himself in a romantic relationship which is similar to his role as "Danny" in "Grease".

Regardless if you're from the west coast, east coast, north or south, this film is relatable to everyone who can identify with being prideful, being in a complicated relationship, or just being drunk. This film is not just an 80's classic, it's a movie classic which shows country life and the gritty, competitive way that it can be.
Author:
Bridgette Marie
Update This Review
Verdict
I had never seen this film until recently and I was really impressed. I'm not a real big country and western person, so I didn't think I would care for it, but my mom insisted I watch it and it was great. I love dramas and Debra Winger and I recommend this film for all you drama lovers out there. A must see.
Great acting, great location, cool dancing, good music. An exceptional drama.

hmmm.... can't really think of any.
Rewind Rating
The Movie Data
Jump To: Music & Soundtrack Vibes
Or use the menu to navigate
1980 Paramount Pictures
1999-2020 fast-rewind.com
V4_27 Powered by Rewind C21 CMS