REWIND
REVIEW

"
See it. Hear it. Feel it. Live it.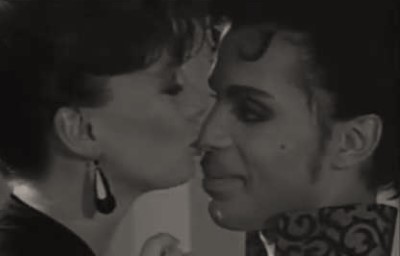 Starring
Prince, Kristin Scott Thomas, Jerome Benton, Steven Berkoff
Early Appearances
See Kristin Scott Thomas before they were famous!
Under The Cherry Moon was British actress Kristin Scott Thomas's first film. She would later star in such films as "The English Patient" & "Four Weddings".
More Trivia from Under The Cherry Moon
Review
Prince is back...

...Only this time he has a completely different side of life to show you. Well, not completely different. He is still the coy, flamboyant rascal who more than lives up to his name, except now he's spreading his charm among the upper class of 1920's France...

Contrary to some misconceptions, "Under The Cherry Moon" is not a sequel to "Purple Rain". Prince trades in his prior Purple Rain character of "The Kid" to take on the new role of Christopher Tracy, a mulatto gigolo fresh from Miami who is scoping out the women of France, young and old alike, in search of much needed cash to pay his rent along with whatever else money can buy. He is accompanied by his sidekick, Tricky (Jerome Benton), who keeps him on his toes and his head out of the clouds.

At the start of the film, Christopher is not picky. He woos every wealthy woman possible by playing the piano and throwing flirtatious glances with his big brown eyes. However, regardless of how charming Christopher and his pal Tricky may be, they are not doing enough "business" to pay their rent.

That's where Kristin steps in. Kristin Scott Thomas, that is. In her first starring role ever, Kristin plays Mary, a stubborn, spoiled twenty-one year old brat who although may come off as a bit brazen at first, is really a frigid virgin who is not ready for the likes of Christopher when he shows up uninvited to her twenty-first birthday party.

In fact, she despises him. How dare a peasant think he could court her? And it's not as if Christopher really wants her. He only wants her money. Initially, that is. The two, however, eventually find themselves falling in love with each other. Opposites attract and they find themselves becoming attracted to qualitites they can't seem to find in anybody else.

The film continues with secret rendezvous, lavish shopping sprees and romantic evenings. Mary's father hates Christopher and does everything in his power to seperate the two. Mary and Christopher have their share of problems, regardless of her father and the odds seem slim to none that the two can ever build a future together.

This film has a surprise ending which I really had no idea was coming. This directorial debut from Prince was quite impressive. I won't give away the ending since it adds to the original flavor of the film. Will Christopher and Mary hook up for good? Maybe... Maybe not. Watch this film and expect to see something completely different than "Purple Rain", yet equally, if not more, stimulating.
Author:
Bridgette Marie
Update This Review
Verdict
This film was a lot better than I expected, however, I didn't really know what to expect!

I think Prince is a genius. Coy and calculating, yet at the same time so easy to identify with. I think everybody has a bit of his personality in them, or at least know someone who does. His boyish antics and humor make for some charming entertainment.

This is one of those films that's best to watch at night in your bed with the lights off so you can fully enjoy the whole karma and atmosphere of the film.
Original, great music, unexpected ending, beautiful black and white scenery. A lot better then you might expect

If you don't like Prince don't watch this film. But if you dig Prince you'll go crazy for this film!
Rewind Rating
The Movie Data
Jump To: Music & Soundtrack Vibes
Or use the menu to navigate
1986 Warner Bros.
1999-2020 fast-rewind.com
V4_27 Powered by Rewind C21 CMS