REWIND
REVIEW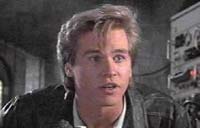 Starring
Val Kilmer, Lucy Gutteridge, Jeremy Kemp, Warren Clarke
Omar Sharif, Peter Cushing, Tristam Jellinek, Christopher Villiers, Jim Abrahams, Nancy Abrahams, Jim Carter, Harry Ditson, Tristram Jellinek, Gertan Klauber, Vyvyan Lorrayne, Richard Mayes, Billy J. Mitchell, Eddie Tagoe Update Cast
Cameos
Look for Jim Abrahams, David Zucker, Jerry Zucker making a cameo appearance!
Review
Hey, it's not the first time a guy fell in love with a woman that he met at a restaurant who turned out to be the daughter of a kidnapped scientist only to lose her to her childhood lover whom she last saw on a deserted island who then turned out fifteen years later to be the leader of the French Underground...

Or, IS it?.

From the directors who gave us the absurdly hilarious "Airplane", "Top Secret" is a joke-a-minute spoof of everything from WWII spy movies to....Elvis! Per the Abrahams/Zucker/Zucker forte, this film is jam-packed with puns and visual gags throughout. Don't blink, or you will most likely miss something.

Val Kilmer stars as an Elvis-esque American heartthrob (what a stretch!) Nick Rivers, chart-topping pop star heading to East Germany to preside over a ceremonial festival when Leonard Bernstein becomes unavailable.

What Nick does not know is that the festival is only a ruse devised to conceal plans for...you guessed it...world domination!

Nick soon meets damsel in distress Hillary Flammond (Gutteridge), who reveals that her famous scientist father Dr. Flammond, inventor of the 'submarine magnet', has been kidnapped and coerced into developing the most deadly weapon in history, the 'polaris mine'.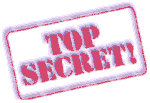 Falling for Hillary, Nick decides to help her rescue her father and foil the evil plans of the East German High Command. The pair recruit the services of the French Underground Resistance, containing such quirky members as 'Déjà Vu', 'LaTrine' and 'Chocolate Mousse', and headed by none other than a long-lost former boyfriend of Hillary's (Nigel- played by Christopher Villiers, somewhat resembling ANOTHER Christopher in that era).

The resultant obvious (and hilarious) rivalry between the two male characters erupts, with Hillary stuck in the middle between her old flame and her new hero.

Don't miss the underwater barroom brawl, it's a classic!

Performing his outrageous hit songs throughout (catch at the beginning that Nick has four of the top five songs on the charts??!!), Nick rescues Dr. Flammond, throttles Nigel, squashes the East German Command, and gets the girl, all without getting a hair out of place, naturally.
Author:
Kimberley A. Wren
Update This Review
Verdict
This movie is an absolute RIOT throughout, and not to be missed!
Val Kilmer is great, the gags do not stop, and you cannot believe how fast the time goes watching this film!

Silly humor that will not appeal to hi-brow movie critics.
Rewind Rating
The Movie Data
Key Crew
Director: Jim Abrahams, David Zucker, Jerry Zucker
Writer: Jim Abrahams, David Zucker, Jerry Zucker, Martyn Burke
Producers: Jim Abrahams, Jon Davison, Tom Jacobson, Hunt Lowry, David Zucker, Jerry Zucker
Locations Manager: Allan James
Update The Crew
Data
Release Date: 08 Jun 1984
MPAA Rating: PG
Studio: Paramount Pictures
Production: Kingsmere Properties, Paramount Pictures
Genre: Comedy
Update The Data
The Movie Trailer
Jump To: Music & Soundtrack Vibes
Or use the menu to navigate
1984 Paramount Pictures
1999-2020 fast-rewind.com
V4_27 Powered by Rewind C21 CMS