REWIND
REVIEW

"
He's Tootsie... She's Dustin Hoffman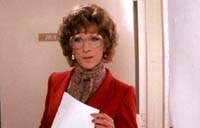 Starring
Dustin Hoffman, Jessica Lange, Teri Garr, Dabney Coleman
Bill Murray, Charles Durning, Doris Belack, Geena Davis, Ellen Foley, Peter Gatto, George Gaynes, Amy Lawrence, Susan Merson, Debra Mooney, Michael Ryan (II), Ronald L. Schwary, Kenny Sinclair, Lynne Thigpen, Robert D. Wilson Update Cast
Early Appearances
See Geena Davis before they were famous!
Cameos
Look for Andy Warhol, Sydney Pollack making a cameo appearance!
"Tootsie" received 10 Oscar nominations including Best Picture, Best Director, Best Actor, and two nominations for Best Supporting Actress for Teri Garr and Jessica Lange (Lange won the Oscar).
More Trivia from Tootsie
Review
One of the most charming films born of the 80's was the delightful cross-dressing comedy Tootsie starring Dustin Hoffman and directed by Sydney Pollack.

Michael Dorsey (Dustin Hoffman) is a New York method actor whose stubborn opinions on how he should play roles have earned him a reputation as 'difficult'. He is able to give succinct advice when teaching his fellow actors, but he can't seem to land a job himself. During a hilarious argument with his frustrated agent George Fields (Sydney Pollack), he is told that no-one will hire him. All Michael wants to do is raise enough money to put on a play written by his roomate Jeff (Bill Murray).

As part of his pro-active teaching methods, Michael takes his friend Sandy (Terri Garr) to try out for a part in a soap opera. In fact, he is better at being a confident woman than she is. When she doesn't get the part, Michael sees an opportunity to get work without the Dorsey stigma getting in the way. He transforms himself into Dorothy Michaels, sweet talkin' southern gal, with a stern and sometimes frighteningly forceful manner!

Dorothy's strong will wins a part in Southwest General, a wonderfully cheesy daytime soap where s/he meets co-stars Julie Nichols (Jessica Lange) and John Van Horn (George Gaynes). It is here that she is nicknamed Tootsie by the show's chauvenistic director (Dabney Coleman). Dorothy's cattle prod assertiveness increases her popularity with the hoards of female fans and the show's ratings skyrocket.

Complications arise as Dorothy starts to spend time with Julie and falls in love with her, but Julie's father Les (Charles Durning) also has his eye on the strong-willed southern belle, and Dorothy is caught in the middle! Watch out for the terrific montage at Les' farmhouse where the old romantic gazes at Dorothy whilst she falls for Julie!

Soon the pressure is too much, hopping from one identity to another is giving our harried actor an identity crisis, and so 'Tootsie' needs to come out of the closet.
Author:
Simon Barber
Update This Review
Verdict
Gender-bending dress-up comedies are a familiar screen formula. Other outings such as Some Like It Hot (1959) and Mrs Doubtfire (1993) have proved that it is a winning one.

In Tootsie, Dustin Hoffman's performance is so accomplished that you frequently forget he is playing two characters. Supported by a cast on top-form, Teri Garr's neurotic actress, Dabney Coleman's sleazy director, Bill Murray's droll roommate, and George Gaynes as the lecherous 'Tongue' give him room to deliver some of his finest work. The always vacant Jessica Lange (in an Oscar winning role) is charming enough as Michael's co-star, whilst Sydney Polack is a stand-out riot, and Charles Durning is unmissable as the sweet old chump who falls for the illusion.

Moments To Fast Rewind:

Murray: "You Sl*t!"
George Gaynes: "Does Jeff know?"
Dorothy accosting George Fields in the Russian Tea Room.
Dorothy revealing her true identity.
Les singing 'That's All '.

This is essential viewing, the sharp script, delightful supporting cast and masterful direction make Tootsie one of the funniest, most intelligent comedies you're ever likely to see.. Go Tootsie, go.
Excellent script, acting, directing and performing
Great music.
Timelessly funny, intelligent comedy.

none!
Rewind Rating
The Movie Data
Data
Release Date: Unknown
MPAA Rating: PG
Studio: Columbia Pictures
Production: Columbia Pictures Corporation, Delphi Films, Mirage, Punch Productions
Genre: Comedy
Update The Data
The Movie Trailer
Jump To: Music & Soundtrack Vibes
Or use the menu to navigate
1982 Columbia Pictures
1999-2020 fast-rewind.com
V4_27 Powered by Rewind C21 CMS