REWIND
REVIEW

"
Are you eating it... or is it eating you?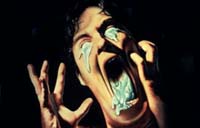 Starring
Michael Moriarty, Scott Bloom, Garrett Morris, Paul Sorvino
Danny Aiello, Andrea Marcovicci, Patrick O'Neal, James Dixon, Alexander Scourby, Russell Nype, Gene O'Neill, Catherine Schultz, James Dukas, Peter Hock, Colette Blonigan, Robert Frank Telfer, Brian Bloom Update Cast
Cameos
Look for Patrick Dempsey, Eric Bogosian, Clara Peller making a cameo appearance!
Larry Cohen worked on two similar projects after "The Stuff", at two different studios. 'Cellular' and 'Phone Booth' - both of which feature dynamic concepts for the protagonist to be stuck in a bizarre situation for the duration of the movie.
More Trivia from The Stuff
Review
From the pen of Larry Cohen (Q, The Winged Serpent) comes perhaps the most bizarre film of the 80's, unless of course you saw 'TerrorVision'.

Harking back to the days of throwaway 50's sci-fi flicks like 'The Blob' and 'Invaders From Mars,' the premise here is that a sweet white goo erupts from the earth and is discovered by a group of miners.

Seeing as it tastes pretty good, the product is approved and mass marketed to American consumers.

With its appealing tri-colour packaging and generic new moniker 'The Stuff' - the American public begin to devour the dessert in a manic fashion. As Brooke Adams tells us, in a mock commercial: "Enough is never enough."



Being the fastest selling new product on the market, Industrial espionage expert David 'Mo' Rutherford (Michael Moriarty) a laconic Texan with a deceptive wit is hired by rival ice cream companies to investigate the ingredients. It has been pushed through FDA approval without a hitch and most of the people involved seemed to have vanished.

We soon realise that The Stuff is a sentient living organism that takes over the brains of those who eat it, turning them into zombies. Suburbanite kid Jason finds himself eating shaving foam to assuage his family's unsettling insistence that he join them in consuming the vile substance. It is up to Mo (people call him 'Mo' because he always wants mo' - yes, I know, *cringe*) to stop the growing lust for the mind altering dessert.

On the adventure, Mo comes across a racist Militia leader (Paul Sorvino), Chocolate-Chip Charlie (Garrett Morris) and a Stuff-addicted FDA stooge (Danny Aiello). If it sounds amazing that actors of this caliber, including two serious mainstays of TV's 'Law and Order' are in this film, then be amazed!

Mo and Jason break into the hi-tech plant mining The Stuff to stop the operation which is ravaging the minds of Americans. But will this product continue under another name?
Author:
Simon Barber
Update This Review
Verdict
The Stuff is a neat little horror film written and directed by B-Movie veteran Larry Cohen. I must admit a certain weakness for this film. Much like the dessert itself, this film is an addictive and mind altering trip which I still return to from time to time. On it's most important level, The Stuff is an extremely clever satire of Capitalism and America's mindless mass-consumerism, but despite the depiction of the smiling nuclear family, it never takes itself quite that seriously, and plays for gory laughs rather than nods and furrowed-brows.

The performances defy logic (particularly Moriarty's camp corporate spy), the dialogue is largely awful, and the sound and editing are really quite terrible. But it is the special effects that are the money shots here. Thanks to the caustic foodstuff we feast on a unique visual presentation: dogs vomiting, industrial quantities of the white goop, living and breathing its way around, the appalling sight of Chocolate Chip Charlie convulsing and bursting apart, and more :-)

You've heard of 'B' movies - but did you ever watch a 'C' movie? :-)

You can always count on Larry Cohen for a great concept and a fun time, and The Stuff offers no less than this. If you want to kick back and enjoy a ridiculous ride, then grab a spoon and dig in...
Satire of American consumerism.
Fun ride, great concept.
Cool effects.

Sometimes poor sound, editing and dialogue.
Rewind Rating
The Movie Data
Key Crew
Director: Larry Cohen
Writer: Larry Cohen
Producers: Larry Cohen, Paul Kurta, Barry Shils
Locations Manager:
Update The Crew
Data
Release Date: 14 Jun 1985
MPAA Rating: R
Studio: New World Pictures
Production: Larco Productions Inc., New World Pictures
Genre: Sci-Fi
Update The Data
The Movie Trailer
Jump To: Music & Soundtrack Vibes
Or use the menu to navigate
1985 New World Pictures
1999-2020 fast-rewind.com
V4_27 Powered by Rewind C21 CMS