REWIND
REVIEW

"
Pez...Cherry flavored Pez... No doubt about it!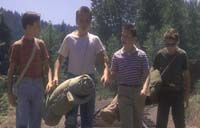 Starring
River Phoenix, Wil Wheaton, Corey Feldman, Jerry O'Connell
Kiefer Sutherland, Richard Dreyfuss, John Cusack, Casey Siemaszko, Gary Riley, Bradley Gregg, Jason Oliver, Marshall Bell, Frances Lee McCain, Bruce Kirby, William Bronder, Scott Beach Update Cast
Based on Stephen King novella "The Body". Stephen said of the movie: "There are certain rights of passage that all boys go through with their friends... The first time that we went away from home. The first time that we really had to face something frightening by ourselves. The first time that you face death. The first time that you face disillusionment about your parents. The first time that you face a situation where you know that if you don't back off a step, you're gonna be hurt. These are all things that boys go through and they are part of what makes boys, men..."
More Trivia from Stand By Me
Review
In this coming of age drama directed by Rob Reiner, a brotherhood of four young pre-teen friends get closer through the events of the summer of '59.

As the movie opens, we are introduced to the characters and situations by a wonderful narration from Richard Dreyfuss, who plays the middle-aged central character, Gordie Lachance.

As the older Lachance starts to relate the events of the summer from the opening of his book, we teleport back to his childhood memories in the fictional small Oregon town of Castle Rock.

The four friends, (a brilliantly chosen cast), Gordie Lachance (Wil Wheaton), Chris Chambers (the wonderful, late River Phoenix), Teddy Duchamp (Corey Feldman), and Vern Tessio (Jerry O'Connell) overhear some members of an older gang discussing the location of the body of a young boy about their age, who had been killed by a train.

They all decide to set out on this adventurous journey to find the body whilst the town bully, Ace (played by Kiefer Sutherland) learns of the situation and decides to also search for the kid's body.

The location as given in the conversation is some days trek from the boys' home and the eventful journey is a highly engaging adventure and proves to bond the four young friends for life whilst showing so much growth among all of the characters.

Each one of the boys has a difficult affliction that affects his own life that is exposed and reconciled during the journey: Gordie's older brother Denny, (played by John Cusack), died three months ago and as a result, Gordie is basically ignored by his father.

Chris has an abusive father and mean brother; Teddy's father who "stormed the beach at Normandy" abused him by nearly burning off his ear by holding his head to the stove; Vern is the fat kid who is constantly picked on.

The magic of "Stand by Me" is shown in the depth of the characters affection for one another and how the individual characters' weaknesses are reconciled through the power of friendship as the journey unfolds.

All these fine young actors deliver an astounding performance with range and depth of emotion, but it is River Pheonix who steals the show with an outstanding performance in this, one of his first movie roles. It's a great tragedy that he left us so soon, as he was truly talented.
Author:
Suzanne Robertson
Update This Review
Verdict
A wonderful, classic coming of age adventure-drama that will never get old, Stand By Me is truly a classic story of friendship that is unusual in being centered around pre-teen characters who are as enjoyable and engaging as any adults.

Not to be missed. Yet another 80's classic where the young show the adults how it's done.
An evident, extremely remarkable closeness between the four main characters.

Nothing!
Rewind Rating
The Movie Data
Jump To: Music & Soundtrack Vibes
Or use the menu to navigate
1986 Columbia/Tristar
1999-2020 fast-rewind.com
V4_27 Powered by Rewind C21 CMS