REWIND
REVIEW

"
Who Says A Little Danger Can't Be A Lot Of Fun?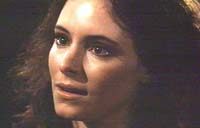 Starring
Richard Dreyfuss, Emilio Estevez, Madeline Stowe, Aidan Quinn
Dan Lauria, Forest Whitaker, Ian Tracey, Earl Billings, Jackson Davies, J.J. Makaro, Scott Andersen, Tony Pantages, Beatrice Boepple, Kyle Wodia, Jan Speck, Kim Kondrashoff, Gary Hetherington Update Cast
With his portrayal of the lovesick undercover cop, Richard Dreyfuss, whose career has encompassed a multitude of roles, greeted new challenges and old friends. "I never thought I'd get a chance to play a cop," says the star. "I didn't think it was within my sphere. I wanted to see what it would be like for me, who was born to play lawyers, doctors, professors and urban neurotics, to play a classic American genre cop."
More Trivia from Stakeout
Review
Written by Jim Kouf, who also wrote "Secret Admirer" and more recently "Operation Dumbo Drop" and "Rush Hour" and directed by "WarGames" and "Saturday Night Fever" director John Badham, Stakeout is one of those miracle movies that probably should have been crapola, but because of good chemistry on the set and a good director and script writer, actually turned out to be a pretty good movie.

Modern wiseguy cops Chris (Dreyfuss) and Bill (Estevez) are ordered by the FBI to stake-out the apartment of the ex-girlfriend of a recently escaped con (nicely played by Aidan Quinn).

Whilst masquerading as a telephone company guy to plant a bug in her phone, Stowe's Character Maria takes a shine to Chris (Dreyfuss). When he accidentally runs into her at the store, she invites him back for a coffee in return for giving her a lift home. The coffee turns into dinner and ...

... The inevitable occurs (well, Stowe has never been more alluring in a movie!) and the ensuing mayhem and perfectly judged romantic chemistry between Stowe, Dreyfuss and Estevez's characters makes the movie a suprisingly enjoyable ride, in a non-taxing kind of way.

The filmmakers even managed to build in a bit of action to keep more 'macho' guys amused in the shape of the odd car chase or inevitable factory location cliche fight to the death, whilst the romance never gets sickly. Lack of montage musical storytelling is the only thing that stands between this movie and an 80's cliche full-house...
Author:
Nick
Update This Review
Verdict
A very good mixture of romance, action and comedy. In fact almost a benchmark for that mixture. A cop meets gangster's wife and falls for her, endangering his life and career in an 80's 'styleeey'. Warmly recommended.
Atomospheric benchmark of action with romantic comedy.

No 80's musical montaging!
Rewind Rating
The Movie Data
Jump To: Music & Soundtrack Vibes
Or use the menu to navigate
1987 Touchstone Pictures
1999-2020 fast-rewind.com
V4_27 Powered by Rewind C21 CMS