REWIND
REVIEW

"
It's all about fitting in!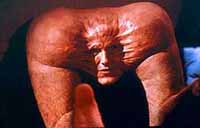 Starring
Billy Warlock, Connie Danese, Ben Slack, Evan Richards
Review
In the late 80's as the want for Horror films seemed to be fading and Directors were Homaging films from less than two years earlier. 'Society' arrived.

A small release, thrown out in Europe using "from the producer of Reanimator" on the posters, this should have disappeared overnight but the poster was Weird! I mean, really bothersome.

I was 22 in '89 and I stopped dead by the theater when I first saw it. An elegant woman removing a mask that was, Wait! Her face? What the hell was that about?

I paid, sat down and... 90 minutes later staggered out with a hushed, shocked audience into the midnight street. How do you explain this film? A satire on class? Sort of.

A twisted surrealist nightmare? Definitely. Really, really disturbing? Absolutely.

Maybe knowing that Billy Warlock from "Baywatch" was in it had thrown me off guard. I was expecting a slasher derivative, worn out Lovecraft adaptation and got, Well, Shunted!!

Warlock plays Billy (A stretch for the TV actor) A son of rich, upper class Americans who feels somehow disconnected from his parents and their whole society clique. He feels more at home with the 'Ordinary' kids. Much to his families disgust.

He visits with a psychiatrist who tells him that he is being naturally paranoid as a result of puberty and not to worry. As the film moves slowly through he first half hour, Billy is catching weirdness out of the corner of his eye.

He spies his sister through he shower door while grabbing a shampoo bottle and she seems momentarily deformed through the frosted glass.

Later he hears a tape of a party from a dropout kid, of his sisters "Welcome into Society" which sounds like an orgy through frog spawn! Later one of his friends turns up dead and his new girlfriend distorts before his eyes in bed and that is only the first two acts!

The third act veers off into a Daliesque nightmare of flesh and off tune music that is indescribable in text and still bothersome today.

But for all my descriptions it is amusing somehow. Yes, the effects are a little dated in the digital 21st century. But the, sometimes, less than subtle class war plotlines are fascinating and the use of Warlock gives it a Hollywood dream come true air that adds tension and believability to the unfolding nightmare of his reality.

You want him to meet up with David Hasselhoff and go surfing but Yuzna wants you to drop into the nightmare as gradually and inevitably as Billy does.

Watch this in the right atmosphere. You may laugh. You may not. But you sure as hell won't forget, "The thrill of the hunt and the smell of the Shunt".
Author:
Carl Noble
Update This Review
Verdict
The film drops a point for the slightly dated look of some of the effects but scores very high for originality. If you meet a stranger and you've both seen 'Society' you will be strangers no longer.
Original, Disturbing and amusing.

Dated effects.
Rewind Rating
The Movie Data
Key Crew
Director: Brian Yuzna
Writer: Rick Fry, Woody Keith
Producers: Keizo Kabata, Terry Ogisu, Keith Walley, Paul White
Locations Manager: Eric A. Gage
Update The Crew
The Movie Trailer
Jump To: Music & Soundtrack Vibes
Or use the menu to navigate
1989 Wild Street Pictures
1999-2020 fast-rewind.com
V4_27 Powered by Rewind C21 CMS