REWIND
REVIEW

"
In six weeks you can find memories to last a lifetime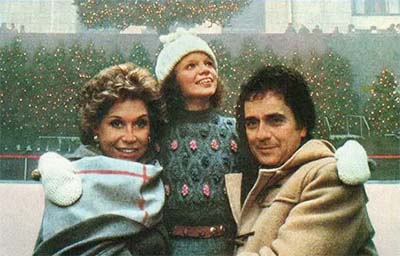 Starring
Dudley Moore, Mary Tyler Moore, Katherine Healy, Shannon Wilcox
Review
We all have dreams. Goals that may seem a little far-fetched or elaborate, even time consuming. But we all know we have the time to achieve them. Most of us feel this way, however some of us know exactly how little time they have. Based on the touching novel by Fred Mustard Stewart, Six Weeks brought a bit of harsh but poignant feelings to the early 80's.

Dudley Moore plays Patrick Dalton, an English native who has been living for the past ten years in Southern California with his wife and son. He is a witty and lovable man running for Congress, but his wife is starting to feel neglected. He is clueless as to why, but loves her dearly and is very serious with his work.

On the way to a party in which he will try to gain some eligible voters, he meets Niki Dreyfus, played by the charming Katherine Healy. She is a precocious, forward, in an innocent way, 12-year old girl who is an amazing ballet dancer and is dying of leukemia. She automatically gets a "crush" on him, and he, innocently, on her.

Her mother, Charlotte, played by Mary Tyler Moore, feels very differently. She hates politicians and questions his motives, hinting she feels he's only using Niki to furthur his career in politics. Patrick isn't exactly thrilled about her either and doubts their paths will ever cross again.

The tables turn however when Niki persuades her mother to let her help Patrick with his campaign. She wants to do one last great thing before she dies. In return, Patrick would gain the support of Charlotte who is a tycoon of a large cosmetics corporation.

Patrick at first declines, until he gets to know Niki. She is a truly special girl who has quit medication for her leukemia because she wants the rest of her life to be as pleasurable as possible. Patrick finds himself feeling like a father towards her and allows her to help him in his campaign. When asked on how much more time she has to live Niki says, "I'd like to see you win the election."

Patrick and Charlotte share a common love, Niki, and so start falling in love with each other. The three of them take a trip to New York where Patrick pulls a few strings and Niki get to dance in the Manhatten production of The Nutcracker.

On the way back to the hotel after the performance, Niki experiences severe head pain on the subway and soon after dies. It is a very heartwrenching scene of the movie, perhaps one of the most touching scenes from any movie and leaves the viewer in tears.

This film is emotionally beautiful and painfully real. This was the first movie I saw as a young child which brought me face to face with my own mortality. It's one of my favorites. If the viewer like this film I also suggest Terms of Endearment. Watch this film with an open heart, and I guarantee it will be filled with love, strength and life.
Author:
Bridgette Marie
Update This Review
Verdict
Incredibly touching, poignant and beautiful. A wonderful film to share with the family and make one aware of how special life is and that not one moment should be taken for granted.
Family oriented, Romantic, Touching, a wonderful performane by the young Katherine Healy.

Very sad.... but worth it to watch and learn valuable lessons on love and life.
Rewind Rating
The Movie Data
Jump To: Music & Soundtrack Vibes
Or use the menu to navigate
1982 Polygram Pictures
1999-2020 fast-rewind.com
V4_27 Powered by Rewind C21 CMS