REWIND
REVIEW

See No Evil, Hear No Evil
"
MURDER! The blind guy couldn't see it. The deaf guy couldn't hear it.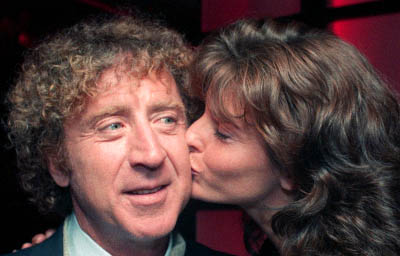 Starring
Richard Pryor, Gene Wilder, Joan Severance, Kevin Spacey
Review
Wallace "Wally" Karue (Pryor) is a foul-mouthed blind man in debt to his bookie. Dave Lyons (Wilder) is a deaf news stand owner who reads lips to understand other people, but often misunderstands what they say. The two meet when Karue applies for a job at Dave's stand. After a conversation about their lives as disabled people, Wally is hired. Karue's bookie comes to the news stand because he's on the run from some criminals. While Lyons reads the ingredients of some antacid to him, he's shot and killed by a beautiful long-legged woman named Eve (Severance). She and her assistant Kirgo (Spacey) are looking for a valuable coin which the bookie palmed into Dave's change box. When the police come, they get the impression that Lyons and Karue are responsible for the murder. Before they go to jail, Wally empties the change box and gets this valuable coin. Now it's up to Wally and Dave to clear their names, figure out the signifigance of the coin and keep ahead of Eve and Kirgo before they and Karue's sister Adele (Childs) get murdered.

While autism isn't as great a disability as blindness or hearing loss, it's a disability nevertheless. I could relate to Wally and Dave. The both of them are trying to prove they don't need assistance when they, in fact, do. People don't understand their difficulties and in their contacts often insult and make fun of them. I can relate to all of this. Wilder and Pryor are great at not only portraying the humorous moments of the movie, but also the quiet dramatic scenes as well. A great example of this is the two of them, eating ice cream on a park bench. Wally talks about how he was burned at the beach by someone who he thought wanted to go out with him, while Dave talks of how his wife left him shortly after he became deaf. This rings rather true, for a lot of disabled people have to face scorn and ridicule while they live in this world.

Finally, I must say some words about Severance and Spacey. Why am I putting the leggy dark-haired softcore star ahead of the Oscar-winning actor? Simple...One look at Joan Severance and your jaw hits the floor. The character of Eve, just like Severance, is a pefect 10 AND a brick house and how often do you come across a combination like that? Her sleek looks and raven hair definitely give you the impression that she'd kiss you and then kill you. She has that dangerous edge and she's damn good at being bad. Spacey shows us in his role that he's always been great at playing immoral slimeballs. For those of you who only know him from "The Usual Suspects" or "American Beauty", watch this movie and see the prototype of the typical Spacey character.

This Arthur Hiller movie is sort of reminiscent of his 1987 film "Outrageous Fortune" (reviewed for this website by yours truly). Both movies feature a foul-mouthed duo thrust into great danger by a criminal plot. In this manner, I suppose this movie is like "Outrageous Fortune", but with more testosterone.
Author:
John Edward Kilduff
Update This Review
Verdict
In summation, I feel this movie is a great example of Wilder and Pryor's chemistry. It's all too sad that now Pryor is disabled himself and knowing that makes watching this movie a little depressing. Still, the script is great, Wilder and Pryor are good as alway, and Joan Severance...Va-va-VAVOOM! WHAT A BABE!

This movie is great and highly recommended.
Pryor and Wilder's usual chemistry, some great action sequences, and Joan Severance's performance...She gets naked, too!

None that I can think of!
Rewind Rating
The Movie Data
Key Crew
Director: Arthur Hiller
Writer: Marvin Worth, Earl Barret, Arne Sultan, Eliot Wald, Andrew Kurtzman, Gene Wilder
Producers: Earl Barret, Burtt Harris, Erica Hiller, Arne Sultan, Jody Worth, Marvin Worth
Locations Manager:
Update The Crew
The Movie Trailer
Jump To: Music & Soundtrack Vibes
Or use the menu to navigate
1989 TriStar Pictures
1999-2020 fast-rewind.com
V4_27 Powered by Rewind C21 CMS