REWIND
REVIEW

"
Bill Murray is back among the ghosts. Only this time, it's three against one.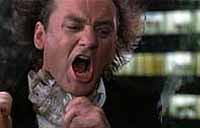 Starring
Bill Murray, Karen Allen, Bobcat Goldthwait, Carol Kane
Cameos
Look for Richard Donner, Miles Davis, Paul Schaefer making a cameo appearance!
Writer Michael O'Donoghue loathed the theatrical release of Scrooged, insisting (until his death) that he and co-writer Mitch Glazer had written a much more brilliant film, far in sensibility from the popular mainstream film that was produced.
More Trivia from Scrooged
Review
I assume you're all aware of the Charles Dickens story 'A Christmas Carol'? It's about a money-grabbing tight-fisted old f*rt who is visited on Christmas Eve, firstly by his dead ex-business partner and subsequently by 3 ghosts (Ghosts of Christmas Past, Present and Future) who teach him to fix his ways through various means.

Congratulations if you've ever been bothered to read the book, but if you are like most people (including myself) you've probably only either seen a film/tv adaptation of the book, or a variation of it featuring Mickey Mouse or a bunch of Muppets.

Scrooged, however, is one of the better adaptations of our time, taking the classic storyline, turning it on it's head and dumping it in a modern-day New York.

Bill Murray plays Frank Cross, who is the Scrooge of our story and as the self-centered, mean spirited and unforgiving President of TV network IBC, Frank treats his employees with no respect and would not think twice about firing anyone who does not get onboard with his own ideas. This unfortunately includes Eliot Loudermilk (Bobcat Goldthwait) who tastes Frank's wrath early on in the movie when he tries to question Frank's war-torn gun-toting promo ("They have gotta be SO scared to miss it! SO TERRIFIED!") for IBC's christmas special of 'Scrooge', instead of the nice family-orientated promo they had already been running for a month previous.

What's in store for Frank from this point however is a more extreme version of the classic tale, which is kicked into action by a visit on the night before Christmas Eve by Frank's old (and VERY dead) Boss, Lew Hayward (John Forsythe; "I dont mind you hitting me Frank, but take it easy on the Bacardi..."), who pre-empts Frank with the notice that he'll be visited by 3 ghosts. Frank, being who he is, doesn't believe what he's seeing or hearing ("You're an hallucination, brought on by alcohol; Russian Vodka, poisoned by Chernobyl!") and so is treated in a similiar fashion that Frank treated Eliot earlier that day; by literally dumping him out of the office.

From this point the film takes it up another gear, starting with the Ghost of Christmas Past (performed brilliantly by David Johansen as a heavy chain-smoking New York cab driver) who pursues Frank's childhood (poor family, crappy father, tv addiction), early office life (hard worker, good natured), meeting the love of his life, Claire (who nickname's him 'Lumpy' due to how they first meet), and their relationship plus subsequent breakup when his working life takes over from his love life.

The Ghost of Christmas Present (played by Carol Kane as a ditzy yet ball-breaking Ballerina Fairy; "The B*tch hit me with a Toaster!") takes Frank through events that he's missing out on in his current life that he really should be keeping in touch with. This being his hard-working, loyal secretary, Grace (Alfre Woodard) with her single-mother life of a family of five and what she's having to go through to make ends meet. Also, his own family (2 of which are played by Bill Murray's own real-life brothers) and what he's missing out on with them, among other events in his current personal life.

The final step is taken (after a haywire, fully drunken Eliot Loudermilk goes 'Postal' on Frank) when he is visited by the Ghost of Christmas Future, which takes on the form of a more sinister, VERY tall, and TV-faced Death, who shows Frank what could happen to him and his family should he continue as he did before. This includes a very bitter, self obsessed Claire, Grace's mute son locked up in a mental institute and of course his own 'death'.

While we are all treated to this, throughout the film we are also witness to three seperate storylines, with the first involving what happens after Eliot Loudermilk is fired and also his subsequent downfall and therefore explains to us, in a way, the reasoning for his acts towards the end of the film. The second storyline involves Grace's family, and in particular her mute son, who hasn't spoken since he had witnessed his father's murder, and the third storyline (which involves itself more-so with the main plot) is the love story between Frank and Claire.

If there's ANY film you should watch at Christmas (or any time during the year should you wish), and especially to give you a good chuckle with a feel-good gooey feeling at the end, then Scrooged is the film for you.
Author:
Robin Hosgood
Update This Review
Verdict
Scrooged is one of my all-time favourite films and is one (up until I eventually purchased it on DVD) that I would always watch whenever it was on TV, whether it be at Christmas or during the year. It's also one of those films that, no matter how many times you've seen it, it will always make you laugh at the funny bits and cry during the sad or romantic bits.

Having said this, there are a few (albeit minor) flaws in the film, mainly the emphasis on the main plotline and not looking into in a bit more depth the side-storylines of Eliot Loudermilk and also Grace as I feel both of these are only really touched upon. Had they maybe added an extra 10-15 minutes (or thereabouts) to the length of the film, this could have been achieved, but at the running time that it is, the film runs smoothly and at a decent pace.

If there's only 1 film you should watch at Christmas, make sure it's Scrooged!
Some great performances, especially by Billy Murray, Carol Kane and David Johansen. Fun version of the classic tale, great special effects for the time, and most importantly, very re-watchable.

Some side-stories could have been touched on a bit more.
Rewind Rating
The Movie Data
Jump To: Music & Soundtrack Vibes
Or use the menu to navigate
1988 Paramount Pictures
1999-2020 fast-rewind.com
V4_27 Powered by Rewind C21 CMS