REWIND
REVIEW

"
You will be truly touched by this movie - that's a promise!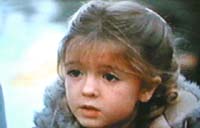 Starring
Mark Miller, Donovan Scott, Bridgette Andersen, Peter Graves
Bridgette Andersen appeared in other movies after "Savannah Smiles" such as "Parent Trap II", "Nightmares", "A Summer to Remember" and others. She also appeared on the Christmas episode of 'Family Ties', and on an episode of 'The Golden Girls' where she played Rose's (Betty White) granddaughter, Charlie.
More Trivia from Savannah Smiles
Review
This is a movie that you simply must see.

In one of her first movie appearances, young Bridgette Andersen (Savannah) is absolutely adorable.

Savannah is a 7 year old girl whose father is running for the Senate. Savannah gets no attention whatsoever from her parents in their busy schedules. Even her birthday is ruined by their lack of attention, leaving her to share her cake with the maid. Crushed, she decides she can't take it anymore and runs away, hiding in her Aunt's car.

When her Aunt is at the park later, she switches to the car of two escaped convicts, Alvie and Bootsie, (Miller & Scott) who just got out of prison the night before and are rediscovering the joys of petty crime.

When she is discovered, they are forced to take her in as she won't reveal who she is. The very next day, they discover that there is a $100,000 reward for her safe return. This money is something that a couple of convicts do not want to pass up, but there is a problem: Savannah's father has hired a private detective (Peter Graves) who is sure the two have kidnapped Savannah.

As the plot thickens and the three become closer, there are definitely some sappy, touching moments which are anything but corny or unrealistic. The humor of the relationship of these three and the way they spend their times together are priceless.

It seems Savannah finally finds the love and attention she has always wanted and the convicts find the love they have always needed! The ending brings tears to my eyes single time I watch it!

After all these years, I still fall in love with the story and the characters. It is still one of my favorite movies of all time and I would recommend it to anyone of any age!
Author:
Lisa Hiatt
Update This Review
Verdict
There are so many good things about this lovable family movie.

Bridgette Andersen as Savannah is adorable and a great little actress, considering her age at the time.

Miller, who was also a writer for the movie and Scott, are comedic and also lovable as the convicts. The plot and story line are smooth, easy to follow and keep you interested.

I think it's one of the best movies of its time and can't imagine why it wasn't a bigger hit in it's time. I can only guess it's because there aren't many familiar, big-name actors in the cast.
Bridgette Andersen, Mark Miller and Donovan Scott.
Smooth plot and storyline which is easy to follow.

Because the movie is over 20 years old, some scenes and production are a bit lacking but the overall message of the story and the talent of the acors make up for any shortcomings.
Rewind Rating
The Movie Data
Key Crew
Director: Pierre De Moro
Writer: Mark Miller
Producers: Mark Miller, Clark L. Paylow
Locations Manager:
Update The Crew
Data
Release Date: 05 1982
MPAA Rating: PG
Studio: Savannah Smiles Productions
Production: Savannah Smiles Productions
Genre: Family
Update The Data
The Movie Trailer
Jump To: Music & Soundtrack Vibes
Or use the menu to navigate
1982 Savannah Smiles Productions
1999-2020 fast-rewind.com
V4_27 Powered by Rewind C21 CMS