REWIND
REVIEW

"
The Legend comes to life.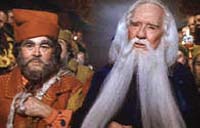 Starring
David Huddleston, John Lithgow, Dudley Moore, Burgess Meredith
Review
Santa Claus: The Movie was an epic fairy tale from the father-son team of Alexander and Ilya Salklind in their prolific post-Superman period. The story cleverly spans both Santa's origins and modern-day travails. It begins as regular old St. Nick (David Huddleston) delivers handmade toys in a sleigh to local children. However, this particular Christmas there is a bad blizzard and he awakes from a frozen slumber at the North Pole. He and his wife are soon surrounded by rhyming elves like Patch (Dudley Moore) who welcome them inside a beautiful grotto that is revealed under the starlight.

Santa and Mrs Claus are overwhelmed by the joyful community and the breathtaking 'warehouse' of toys that the elves have built, but Santa is still unaware of the true reason he is present. Soon preparations for Christmas begin and it is time for him to formally inherit the moniker of `Santa Claus.' He stands before an ancient elf (Burgess Meredith) whose beard stretches behind him for miles and asks the most obvious question: `How can I deliver all these toys in a single night?'. The answer is beautiful: 'Time travels with him until his work is done.'

Several fantastic montages follow as the merry red-suited one delivers toys throughout the centuries. In the 20th century however, life is not so good for some kids, like Joe (Christian Fitzpatrick) who lives on the streets and is cynical about Christmas and Santa Claus. He's never received a present, but is sometimes lucky to sneak some free food from a rich neighbourhood girl named Cornelia (Carrie Kei Heim). Santa spends time with Joe, letting him pilot the sleigh and giving him his first present too.

Back at the workshop, Patch the elf is vying for Santa's attention with ideas of how to update their traditional production methods. However, when his new-fangled assembly-line results in thousands of shoddy returned toys, he leaves the North Pole to prove his worth and ends up in New York City. Using his skills as a toymaker and inventor, he finds a job with tycoon & toy magnate B.Z (John Lithgow). B.Z soon realises that Patch is a true elf and takes advantage of his magical formulas for his own gain. He can now switch from selling glass-filled teddy bears to giving away glowing peuce lollipops that make children fly! B.Z sees this as his chance to take over Santa's role with his cynical and money-driven 'Christmas II'.

We soon discover that B.Z is Cornelia's uncle. Cornelia and Joe overhear B.Z's assistant Towser informing him that their latest batch of candy canes have exploded and are clearly dangerous:

"Stop making me go uh-huh uh-huh like some kind of a godamn moron!" (B.Z)

Patch does not know about this. Cornelia and Joe try to tell Santa that he must save Patch, but Joe is caught and tied up!

Cornelia gets a letter to Santa, but this is only March and the reindeer usually have a full year's rest before they have to fly, especially if they are to pull off the sort of special super-dooper looping feats needed to save Patch!

Santa fires up Donner, Blitzen, Prancer and Dancer and heads out to save the day! But will he reach Patch before the candy canes explode? And what will happen to Cornelia and Joe?
Author:
Simon Barber
Update This Review
Verdict
What more could you want from a Christmas classic than candy canes, wonderful staging, fun hammy acting, plus the best reindeer flying scenes in motion picture history? Not to mention Henry Mancini's fine musical score and a selection of memorable Christmas songs from Leslie Bricuse sung by artists like Sheena Easton.

Sure it's contrived and trite, but like most carefree 80's pop culture, it revels in its own lightness of being. From the grinch-like John Lithgow, to David Huddleston's radiant performance, this is pure popcorn. I've always enjoyed touches such as the 'seasons greetings' scene where all the elves wait for the first snow to fall, or the gadgety yellow car Patch flies in. This film is at the heart of many childhood xmas experiences. In England the TV stations have conspired to show it every xmas eve for the past 17 years and so it is a staple of many 80's fans preparation.

Director Jeannot Szwarc's holiday odyssey used state-of-the-art effects for 1984-85 (pre Industrial Light & Magic) which still look great today. Derek Meddings made a stunning effort in supervising the many spectacular set pieces. Check out Santa's grotto in the wonderful opening sequence, the elves at work, Santa flying by the Statue of Liberty and the final race to save Patch.

Swarzc lets the actors indulge in what is essentially a Hollywood pantomime. Before the days of 'Jingle all the Way' and 'Home Alone', this was the sort of Christmas epic that hit the big screen and some would agree with me when I say they are sorely missed!

Alexander and Ilya Salklind had delivered grand scale projects numerous times before [The Three Musketeers, The Four Musketeers, Superman 1-3, Supergirl] and Santa Claus is of a similar ilk. Perhaps the lukewarm reception to this movie was due to its over-ambitious plot which relied on suspension of more than just your disbelief! Though their movies are often beautiful to watch, the legendary Salkinds did often clash with talent behind the scenes. Wrangles with directors and screenwriters often hindered their work. One can't help but wonder how the movie would have turned out if Richard Donner [Director, Superman-The Movie] had been at the helm?

Santa Claus: The Movie, (like many Salkind properties) languished in a studio vault until a recent DVD polish at the hands of Anchor Bay Entertainment gave us a region 1 disc replete with commentaries and featurettes.

The movie has become a keystone in Christmas cultural history, and requires a fresh re-appraisal. Ho Ho Ho.
Great performances, great special effects, wonderful music and good all-round family fun.

Slightly lame plot.
Rewind Rating
The Movie Data
Jump To: Music & Soundtrack Vibes
Or use the menu to navigate
1985 Tristar Pictures
1999-2020 fast-rewind.com
V4_27 Powered by Rewind C21 CMS