REWIND
REVIEW

"
Evil Ninjas. Traitors to their art. Who will stop them and the deadly power they hold?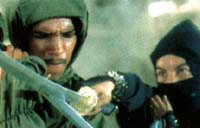 Starring
Cara Casey, Chuck Connors, Mike Kelly, John Ladalski
Thomas Lung, George Nicholas, Manji Otsuki, Toby Russell, George Tan, Brian Wong, Jack Long Update Cast
Review
Sakura Killers. Ah, how can one find words of such levity, such beauty, as to accurately describe such a wondrous piece of art? ;)

The film opens on a deadly mission into a research lab. The Sakura Killers, a covert branch of corrupt practitioners in the art of Ninjitsu, steal a video tape containing crucial info about a scientific experiment in genetic splicing. They kill a few stooges and escape into the night using all manner of inhuman wall-climbing and surreptitious martial arts techniques. The Colonel (Chuck Connors), is a tough 'Ninja Buster' who hears of the crime and realises the catastrophic effect that could be wreaked on the world if this information falls into the wrong hands. As Dennis later reveals, this huge security breach 'could effect the growth of crops in the USA' :)

The Colonel dispatches ace agents Sonny (Mike Kelly) and Dennis (George Nichols) to Taiwan in a quest to recover the tape and defeat the ferocious Sakura.

They are moping around Taiwan, giving each other vague descriptions of the mission and clearly distressed at being so badly dubbed, when they locate a friend (and creatively named character) called Manji (played by Manji Otsuki) and ask her the following question:

George: "Manji, can we ask you a few questions?"

Manji: "Sure."

George: "We think you can help us with the answers."

Unfortunately, Sonny and Dennis get jumped several times and soon realise that they are no match for the Sakura. They seek the help of Manji's uncle, Sugiyama, a ninja master who used to work for the Sakura Organisation and is now in hiding. Sugiyama is aware of the Sakura's treachery to their art and volunteers to train our heroes in the secret ways of the ninja.

Despite the fact that they master this lifelong craft in a matter of days, these training scenes are some of the most rewarding in the movie. Sonny and Dennis run up mountains whilst trying to balance straw hats against their chests, they punch bales of hay, nail some nimble sword moves and generally leap about, blocking and chopsockying their way to ninja status.

From this point on, the film likes to endow our heroes with supernatural qualities. For example, once they have learnt to use ninja weapons like smoke bombs, Sonny and Dennis have the uncanny ability to change into their ninja outfits and cool devil masks in a single cutaway shot! :)

We are soon into the final setpiece of the movie, the explosive fight with Sonny, Dennis and Manji against the Sakura Ninja Master in a deserted, bollarded wasteground. Although the odds are completely unfair i.e: 3 against 1, even then they don't manage to actually defeat him (he is stabbed in a sly fashion by another random girl and then he kills himself). It's still visually interesting though, with engaging production design in the form of the location and three coloured ninja suits - red, lilac and green.

You should also watch out for the smoke bomb trick which disguises the Sakura ninja master among an array of straw-filled scarecrows. Very cool! And who could forget how he burrows under the soil for 50ft and then explodes high into the air? I mean, even an industrial machine would have trouble with that!

And so they do battle. But when the tape is finally returned, does the Colonel really plan to destroy it, or use it for his own ends?

Come on, how about a sequel?
Author:
Simon Barber
Update This Review
Verdict
Poor editing, bad acting and terrible dubbing. This movie's one of my favorites!

Yes, it's a goofy ninja movie, but it has a few action flourishes, like psychotic waiters and amusing super-fast ninja crawls. It boasts the same unique low-budget look prevalent in the early-to-mid 80's where projects with little or no substance managed to get off the ground and secure international distribution. It also smacks of the America-Taiwan relationship of movies like Bloodsport or Kickboxer. Think Golem-Globus and Cannon Films and you'll be on the right lines. If you are a fan of that whole Michael Dudikoff era and you fantasize about throwing a few shuriken stars and stealing back into the night, you might just enjoy the surrealistic action and the dark concepts of Sakura Killers.

Chuck Connors lends a stern hand, with his isolated but memorable performance as The Colonel. Most of the other performances are perfunctory at best and too steeped in cheese for me to able to de-cheese for analysis on such short notice :)

Sakura Killers is a hard-to-find gem, with the perfect set up for Sakura Killers 2. It's a shame that Chuck Connors died, because some more 'ninja-busting' was probably written in the (shuriken) stars...
Fun, goofy scenes. Some interesting production design. Some great martial arts ninja action.

Dubbing, acting & editing. Terrible dialogue.
Rewind Rating
The Movie Data
Key Crew
Director: Richard Ward
Writer: David Marks screenplay, Dusty Nelson, George Tan
Producers: K.L. Lim, Roy McAree
Locations Manager:
Update The Crew
The Movie Trailer
Jump To: Music & Soundtrack Vibes
Or use the menu to navigate
1987 First Line Films
1999-2020 fast-rewind.com
V4_27 Powered by Rewind C21 CMS