REWIND
REVIEW

"
Rusty James can't live up to his brother's reputation. His brother can't live it down.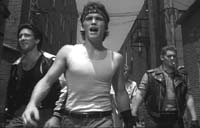 Starring
Matt Dillon, Mickey Rourke, Diane Lane, Dennis Hopper
Cameos
Look for Sofia Coppola, Gian-Carlo Coppola, S.E. Hinton making a cameo appearance!
Review
In the summer of 1982 Francis Ford Coppola set up in Tulsa, Oklahoma, to film two films back-to-back for his newly founded film company Zoetrope Studios.

He amassed a group of young iconoclastic actors, who would go on to dominate big screen productions for the rest of the decade and beyond. Coppola chose to adapt two S. E. Hinton novels for the silver screen, "The Outsiders" & "Rumble Fish".

Whereas "The Outsiders" was filmed in rich Technicolor grandeur, "Rumble Fish" -the second film was, in direct contrast, filmed in black & white.

As Coppola drew on the influence from films such as, "The Cabinet of Dr. Caligari", "The Golem", "Sunrise" and "The Last Laugh", these films coming from the German Expressionist cinema of the 1920's.

It could be interpreted that the reason Coppola chose to film in such contrasting styles, was perhaps to showcase the production skills of his new Zoetrope Studios.

Rumble Fish begins at Benny's, a pool & soda bar run by the philosophical "35 summers left!" Benny (Waits). This is where Rusty-James (Dillon) holds court, as self-appointed leader, of the neighbourhood gang. His buddy Midget (Fishburn) informs him that he has an invitation to rumble with Biff Wilcox from a rival crew at 10pm that night.

While Rusty-James and B.J. Jackson (Penn) are getting fired up about the prospect of gang violence, Steve (Spano) & Smokey (Cage) voice their anxieties about it. Due to the unknown whereabouts of The Motorcycle Boy, Rusty-James' older brother and local legend, who decreed a truce between gangs, before leaving.

Rusty-James brushes reservations aside, and sets off to see his high school sweetheart Patty (Lane). He arranges some pre-rumble TLC and then drifts off with straight-laced Steve his doting, perpetually worried best friend.

A disused rail yard is the location for the rumble. Biff Wilcox (Withrow) with his blonde spiky hair and loose fitting blazer, resembling an amphetamine crazed New Romantic, appears from the shadows with his backup.

After hurling spittle-fuelled insults, he pulls a knife on Rusty-James and they go at it. The ensuing rumble is highly charged and theatrically choreographed; drawing its style from the gang fight in Stanley Kubrick's, "A Clockwork Orange" (1971).

Just as Rusty-James has finished stomping his rival, The Motorcycle Boy (Rourke) revs up to the scene clad in iconic cool. Distracted by his brother's arrival, Rusty-James receives a superficial knife wound on his side, after Biff lunges from the floor with a splintered piece of glass. The Motorcycle Boy dishes out instant retribution by sending his speeding motorbike into the already bloodied, staggering Biff Wilcox.

Rusty-James idolises his older brother and strives to emulate him. Now that he has returned, he believes they can restore the gang to its former glory. But The Motorcycle Boy, after returning from a cathartic visit to California, has lost interest in trivial, pointless patch battles, and has no desire to be the infamous gang leader of his teen years.

Now 21, the years of warring have left him colour blind, partially deaf and he wanders round in a confused stoned haze, much like a punch-drunk boxer who's been between the ropes too long.

Following his trip to the Golden State, he tells his inquisitive brother, "California is like a beautiful, wild girl on heroin... who's high as a kite and thinking she's on top of the world... not knowing she's dying... even if you show her the marks".

Rusty-James cannot understand his brother's blurry metaphors and confused state. So he starts to question his brother's sanity.

What follows is the build up to a tragic, yet poignant confrontation at the town's pet store, where The Motorcycle Boy, followed by Rusty-James, go to free two Siamese Fighting fish... rumble fish!
Author:
Stuart Fitzgerald
Update This Review
Verdict
Rumble fish are Siamese fighting fish which, if put together, will try to annihilate each other. Or if the fish sees it's own reflection, then it will repeatedly attack the image. The fish are therefore a metaphor for Rusty-James and his gang who are heading into self-destruction through pointless gang warfare.

The omnipresent ticking of clocks, of racing clouds, of billowing smoke, emanating from unseen locations and the use of painted shadows, creates a subtle sense of disorientation throughout. The sets are abstract in an attempt to focus on the realism and the emotions of the character, this gives the film a very strong and distinctive style.

The cast is superb... Matt Dillon's portrayal of Rusty James is definitely the pick of his early screen roles. Mickey Rourke's disorientated and abstract Motorcycle Boy is profoundly cool and Dennis Hopper is excellent as the brother's brokenhearted alcoholic father. The supporting cast is rich with the talents of Diane Lane, Nicholas Cage, Larry Fishburn, Chris Penn, Vincent Spano and Tom Waits on show. Often misunderstood as a teen movie, Rumble Fish, with its theme of the elapsing and ebbing of time and youth and of personal enlightenment, is perhaps more pertinent to an adult audience.
Abstract & surreal style gives the film a definitive uniqueness. Excellent cast.

Not for those expecting a highly charged and violent gang film.
Rewind Rating
The Movie Data
Jump To: Music & Soundtrack Vibes
Or use the menu to navigate
1983 Universal Pictures
1999-2020 fast-rewind.com
V4_27 Powered by Rewind C21 CMS