REWIND
REVIEW

"
Who, in the name of God, is getting away with murder?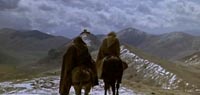 Starring
Sean Connery, Christian Slater, Michael Lonsdale, Helmut Qualtinger
The character of the Venerable Jorge de Burgos, a Spanish monk, is Umberto Eco's tribute to the Argentinean writer Jorge Luis Borges, who was also blind and who wrote "The Library of Babel" which inspired elements of the story.
More Trivia from Name Of The Rose
Review
After realising his potential with the superb "Quest For Fire" (1982), French director Jean Jacques Annaud took on Umberto Eco's novel of religious hypocrisy and malice set in the dark ages.

The film takes place in a remote abbey in the north of Italy, the year is 1327. Brother William of Baskerville (Connery) is a studious and respected monk who arrives on horseback with his novice (a youthful Slater). Once inside the grounds they are welcomed by the Abbott (Lonsdale) who informs them of an unfortunate incident involving the death of one of their own, found broken and mutilated near the graveyard.

They are told of the widespread belief that the presence of evil is at work and when elder monks surmise that the devil himself roams the abbey, the inquisitive William of Baskerville sets out to confirm this as unsound.

When more bodies are discovered, hysteria breaks out with superstition rife among the flock.

Brother William is piecing together the fragments of evidence and with this information confronts the Abbott. It seems that hidden messages, found written in lemon juice, on parchment, reveal secrecy surrounding a book, that could kill and for which men will kill!

The literature contains dangerous writings, the holy code of sorrow must prevail and a certain corruption in the form of comic images is forbidden and must be eradicated at all costs. The bishop however is not convinced and a Holy Inquisition are called led by Bernardo Gui (Abraham) a sadistic and unforgiving witchhunter.

After arriving they immediately accuse a young peasant girl who's poverty stricken quarters contain traces of witchcraft, if only in the form of a black cat and cockerel, enough for the inquisition who have sought out the cloven hoofed antichrist.

Also accused is Ron Pearlman's Salvatore, a deformed hunchback monk who dabbles in heretical dialogue, along with his master they are tortured and finally confess to heresy and seem resigned to their fate, tied to a stake and torched as ordered by the manic witchhunter.

Brother William meanwhile is closer to revealing the truth, as human inferno's seem imminent he and his novice finally gain access to the forbidden library, within the labyrinthine walls they will find the poisoned pages of the book which will save the innocent and prove their theories to be correct.

The film is told with sporadic narration and in flashback by Slater's novice and maintains an atmosphere lacking in many films of its time.

The outlandish features of an ensemble cast are perfect for the subject matter and plot, Connery here gives us one of his most assured performances and surely one of his favorite. Both Lonsdale and Abraham are excellent along with Salvatore the doomed hunchback played by Ron Pearlman who again is immense with his gargoyle like features, comic yet mesmerizing with his monkish appearance.

The picture is strongest with it's ability to portray strong images while maintaining a certain tenderness. The sometimes languid pace with hollow eerie location are matched perfectly with poignant moments etched with comic undertones.

The manner of Brother William can be found in Conan Doyle's iconic detective 'Holmes' and with Slater as his 'Watson' he is driven to solving the mystery with his Sherlockion instincts coming to the fore when mouthing the famous word "elementary".

Religious themes are portrayed with a sense of hypocrisy and indeed the very nucleus of holy belief is questioned continuously, the love of god, can it seems be at least on a similar level to other forms of joy as when Connery states "How peaceful life would be without love", "How safe", "How tranquil and how very dull".

Slater's ultimate "sin" both natural and sexual toward a female is given almost a green light by the wisdom of Connery and in-turn the hasty intercourse scene mid-way through is excellent, filmed with care and not out of place. The natural sensation of feelings emanating from Slater is a welcome angle on warmth and comfort within the human soul that can overcome darkness, tragedy and the religious code of infinite sorrow.
Author:
Nik Allen
Update This Review
Verdict
Name Of The Rose is an outstanding 80's gem, essential and brilliantly cast.
Great cast acting out a great script. Murder intrigue and love.

Slow paced.
Rewind Rating
The Movie Data
Key Crew
Director: Jean-Jacques Annaud
Writer: Umberto Eco, Andrew Birkin, Gérard Brach, Howard Franklin, Alain Godard, Jean-Jacques Annaud
Producers: Franco Cristaldi, Jake Eberts, Bernd Eichinger, Alexandre Mnouchkine, Bernd Schaefers, Thomas Schühly, Herman Weigel
Locations Manager: Jean-Yves Asselin
Update The Crew
Data
Release Date: 24 Sep 1986
MPAA Rating: R
Studio: 20th Century Fox
Production: Cristaldifilm, France 3 Cinéma, Les Films Ariane, Neue Constantin Film, Rai Uno Radiotelevisione Italiana, Zweites Deutsches Fernsehen (ZDF)
Genre: Historical
Update The Data
The Movie Trailer
Jump To: Music & Soundtrack Vibes
Or use the menu to navigate
1986 20th Century Fox
1999-2020 fast-rewind.com
V4_27 Powered by Rewind C21 CMS