REWIND
REVIEW

"
When East Meets West, the Champion remains standing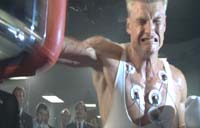 Starring
Sylvester Stallone, Talia Shire, Burt Young, Carl Weathers
Review
Rocky IV, in my opinion, overcame the inherent disadvantages of being the fourth installment completely. Some people wouldn't agree, but I love it and know lots of others do too.

There is something about part 4 that stands out for me, and I have more than a few theories as to what it could be.

Does it have something to do with the film's release date? 1985 seems to be a great year for 80's movies. What about the clarity of the sound and video? It could be just me, but it seems like the overall quality, lighting, filming methods, and so forth seem to be a cut above the rest...

Another possibility is the "attitude" the film displays, it really has an in your face, sorta "flashy" feel to it doesn't it? And it pulls it off too!

Not to mention an awesome soundtrack that boasts a score by synth maestro Vince DiCola and a selection of hard hittin' 80's rock featuring the likes of "No easy way out" by Robert Tepper. (This song is used in one of the best scenes in the movie).

This movie really makes you want to get involved.

Written and directed by Sylvester Stallone himself, Rocky IV is a masterful technical achievement in the fields of direction, editing and montage creation. In fact, it's difficult to think of another movie in history with such dynamic and motivational musical montage sequences. To help create them, Sly turned to a highly skilled, special montage editor, James Symons. James managed to take the powerful music and match it perfectly to a dizzying montage of equally powerful and dynamic visuals. James, wherever you are now, we salute you.

At any rate, Rocky IV is a very entertaining film, and if by some chance you haven't seen it, you should make it a point to. Endlessly quotable, I have many fond memories of me and some of my classmates in high school quoting this movie at ideal times... For example, if somebody sprained their ankle in gym, I would look at a nearby buddy very seriously and exclaim: "If he dies, he dies". Everybody that got it would succumb to riotous laughter, the ones that didn't just stood there with an odd look on their face.

Another fave would be to emit the thunderous "Nooooooooo!" that Duke let out when Apollo dies, (in response to a less than desirable homework assignment of course). This segment of the rocky saga has a lot of intensity, and although it strays a bit from the others, this only serves to improve it. The training sequences have reached full throttle. I guess rocky was just warming up in the first three. Paulie is of course priceless again, saying things that have been known to make people choke on popcorn and spit their beverage out laughing.

The movie, I must say, is a little bit predictable, but aren't all movies of this type?

But then again, what Rocky fan could live without Rocky's unique way of speaking (I call it Rockonics), Paulie's antics, Adrian's shyness interrupted by outbursts, and Apollo's attempts to be stylish and cool? All of which contribute to the predictability, but at the same time make us love it all the more.

One aspect that has changed in part four is that Rocky starts taking charge a little more. It seems he has realized that he has what it takes to shape his life completely on his own. Another difference is the focus on technology, and muscle development. (I don't want to give anything away to those of you who have not seen it, but think robots, machines, and steroids) This film is definitely the "hi-tech" one of the bunch.

And just for good measure they threw in James Brown to bump it up a notch. Rocky 4 has been called "ludicrous but shamefully enjoyable" -well what is so ludicrous about destroying logs, dragging rocks and running up a mountain?

Nothing! I mean it is one of the top box office earners of the 80s. One very mysterious thing about some of the Rocky films on DVD is that the picture quality improves for the final fights. Is that coincidence or something more sinister?

Rocky IV is one of the most openly patriotic movies of all time, whilst attempting to also warm the troubled waters of the cold war with its "everyone could just get along" message. I still regret not showing this movie to a Russian exchange student I knew from school, I know she would have enjoyed it. -Although she might have been confused as to why some of the Russians in the crowd were wearing Bud Light t-shirts. It is also worth mentioning that the English translations of what the russians are saying are removed on the DVD, what a drag, the American people like to know what they are chattering about.

I have heard people call Rocky 4 everything from "trash" to "the defining cinematic portrait of the eighties", I tend to think the second label is more fitting, since I enjoyed the flick alot. However, if I could add one thing to this movie that I feel had been wrongfully left out, it would be that guy from Home Alone, who should have grabbed Rocky's kid's arm and said "Look what ya did ya little jerk!" when he sprayed Paulie with the whipped cream, that was just uncalled for :)

I won't go into much detail about it, but watch for Paulie's long-overdue speech, he finally comes to his senses and admits that he knows something... and is thankful for it. Well as for what becomes of Rocky...

This is his chance to prove that he is not "a tomato" as Mickey puts it, and lets hope he can come up with something better than Ivan Drago's eyebrow raising remark: "I defeat all man".
Author:
Jeff Knobloch
Update This Review
Verdict
In my experience Rocky IV is often the fave of the series, and though it is true that it isn't as well rounded as the first one, it is still a very entertaining and powerfully produced movie.

I don't think reviewers appreciate the film as much as they should because they compare it to the first film(s) too often. Rocky is not just about head-pounding brawls, its about willing something to happen. If Rocky didnt believe he could win, it wouldn't matter how much he trained, he would lose, you have to have heart.

In this movie, courage conquers technology and ultimately two nations who at first were divided by hate, ignorance, and stupidity came to understand and even appreciate one another. There is deeper meaning than flying fists if you look closely...
Totally satisfying for open-minded rocky fans! A great deviation from the first movie. hange is not always bad!

Not enough surprises, too much focus on the main fight.
Rewind Rating
The Movie Data
Jump To: Music & Soundtrack Vibes
Or use the menu to navigate
1985 Metro-Goldwyn-Mayer
1999-2020 fast-rewind.com
V4_27 Powered by Rewind C21 CMS