REWIND
REVIEW

"
Road House is where the action is!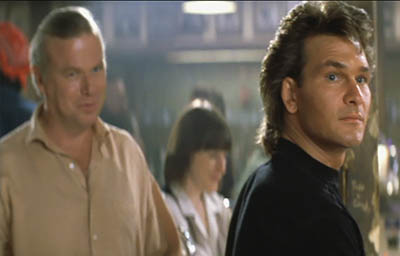 Starring
Patrick Swayze, Kelly Lynch, Sam Elliott, Ben Gazzara
Marshall R. Teague, Julie Michaels, Red West, Sunshine Parker, Jeff Healey, Kevin Tighe, John Doe, Kathleen Wilhoite, Travis McKenna, Roger Hewlett, Kurt James Stefka, Gary Hudson, Terry Funk, Michael Rider, John William Young, Anthony De Longis, Joe Unger Update Cast
Cameos
Look for Terry Funk, Randy Castillo making a cameo appearance!
"The reason I did Roadhouse, which the guys love, was because I wanted people to see ... one time ... the level of fight skills that I've developed though being a martial artist and a weapons expert since I was real little," Swayze says. "We did all those fights full contact, except for the face."
More Trivia from Road House
Review
Kung-fu, philosophy, store-room sex, and broken tables are the hallmarks of this sleazy action flick. Dalton (Patrick Swayze) is a scholarly martial artist who happens to have a Ph.D in Philosophy from New York University. He also wears expensive suits and drives a Mercedes.

Rather than make a living lecturing on the finer points of the inner sanctum, he bides his time dodging blades and fists as a 'Cooler' -- the lead bouncer in charge of orchestrating the end of bar-room brawls he presides upon.

Dalton puts his PhD to good use when he is hired to clean up the "Double Deuce," a desperate night-spot in Jasper, Missouri. "The sort of place where they sweep up the eyeballs after closing".

The Double Deuce is owned by Frank Tilghman (Kevin Tighe), and despite being in a very small town, it inexplicably pulls in hundreds of patrons every night :-)

One of Dalton's 3 rules of bouncing is "Be nice until it's time not to be nice".

He's deep, man.

Dalton is hurt on his first night on the job, and he is stitched up by Dr. Clay (Kelly Lynch), a beautiful physician who is willing to listen to his diatribes like "pain don't hurt." Dalton and Clay want to get it on, but town tyrant Brad Wesley (Ben Gazzara), already has his eye on her. Wesley is a crime boss who extorts money from everyone in Jasper and has a whole team of mindless stooges he sets upon the high-kicking pseudo-intellectual.

Dalton's mentor Wade Garrett (Sam Elliott), arrives to lend bone-cracking assistance, and to the tune of the Double Deuce house band (legendary blind Canadian blues-rock guitarist Jeff Healey) the Zen masters clean up the town.

No wonder he gave up his Professorship - huh?
Author:
Simon Barber
Update This Review
Verdict
Swayze is most respected for his superb performances in 'Dirty Dancing,' 'Ghost' and 'Point Break' but this camp masterclass of bar fights, sleazy dialogue and 'Showgirls-esque' sex is really not worthy of his talents.

Despite the odd amusing line, such as Elliot's "I'll get all the sleep I need when I'm dead" or Swayze's "opinions vary" - this is nothing more than an updated version of "Shane" - a plain-clothes western with violence and sex used to replace plot and drama.

Dalton as the philosopher is also another stumbling block of the movie: I would love to read his thesis: 'Perspectives on the ID, the Ego, and 1001 uses for the throat of your enemy' ?

Of course, if you want to switch your brain off, see some chicks strip, and see Swayze's buns, then pay your admission and have a rollickin' good time!

Not really a great example of 80's culture, but the highlight is the miraculous Jeff Healey Band. Hearing Healey whip out those Hendrix/Stevie Ray Vaughn stratocaster licks behind chicken-wire fencing is worth the price of admission alone!
Great music from The Jeff Healey Band.

Sleazy sex and weak dialogue. Unbelievable characters.
Rewind Rating
The Movie Data
Jump To: Music & Soundtrack Vibes
Or use the menu to navigate
1989 United Artists
1999-2020 fast-rewind.com
V4_27 Powered by Rewind C21 CMS