REWIND
REVIEW

"
Return to the land where the adventure began.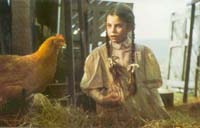 Starring
Fairuza Balk, Nicol Williamson, Piper Laurie, Pons Maar
Firstly, I didn't know Nurse Wilson was named after me (see trivia below) and secondly, it took 4 to 5 pupeteers to perform Belina the chicken. I was the lucky one to have my hand where the sun don't shine! (Mak Wilson - Puppeteer/CGI Animation Director with Jim Henson's Creature Shop)
More Trivia from Return to Oz
I was originally meant to play Tik-Tok, but a back problem I received during Greystoke put pay to that. It was then down to an audition from the chosen puppeteers as to who would perform Billina, and I was the lucky winner. I was also going to dub the voice, as I did it live during the shoot, but Walter decided to go for the real thing... a woman!
More Trivia from Return to Oz
Review
Like so many brilliant works, Return to Oz was bashed by critics when it first came out. Unlike it's 1939 predecessor, this Oz was hardly a land of painted cardboard sets, dancing midgets and upbeat sing-along tunes, it was, in fact, much closer to L. Frank Baum's haunting, disturbing books. As a very small child, I delighted in the antics of the bumbling Tin Man and Cowardly Lion and sang along with "We're off to see the wizard...", so my mother considered it an act of charity when she rented me the "sequel".

Return to Oz is not a film for small children, mind you. Set 6 months after the tornado, it begins with poor Dorothy Gale (Fairuza Balk) lying awake in bed, unable to sleep thanks to a preoccupation with the fictitious Oz. Worried and exhausted with Dorothy's insomnia and farfetched tales, Aunt Em (Piper Laurie) and Uncle Henry (Matt Clark) resolve to send her to a clinic for shock therapy. The following morning, little Dorothy discovers a key with the Oz insignia - in the nest of her yellow hen, Billina.

The clinic, run by the stern, black-clad Nurse Wilson (Jean Marsh) and the mad scientist Dr. Worley (Nicol Williamson), is a dark, foreboding Victorian mansion. Em leaves Dorothy at the mercy of the "head" nurse and her pasty-faced assistants. Just as Dr. Worley places the shock therapy machine around her head, however, a power outage renders it useless and Dorothy is rescued by a blonde girl, who leads her out into the rain, where they are both swept down the river.

And so the adventure begins. Dorothy wakes up in a chicken coop, with her companion Billina, the talking hen. In the ruins of the Emerald City, Dorothy encounters the Wheelers - the greatest movie villains *ever*. Influenced by the hospital assistants (and played by the same actors), the Wheelers are not unlike the Flying Monkeys, minions of the evil witch Princess Mombi (Jean Marsh). Clad in futuristic costumes and frightening helmets sporting evil faces, the Wheelers race around on their wheels - which take the place of hands and feet - laughing madly at anything and everything. Their leader, played by the brilliantly weird Pons Maar, leads them to Mombi's palace. Dorothy also meets Tik-Tok, the "Royal Army of Oz", a friendly copper robot.

Another classic villain, Mombi has the ability to swap heads, and keeps a room full of severed, yet mysteriously still alive, female heads in glass cabinets, and trades them out at will. You can see by now where a little kid would be scared.

Dorothy also meets up with Jack Pumpkinhead, a rather pathetic character made of sticks and with a pumpkin for a head, who insists on calling her "mom", and the Gump, a taxidermied moose head strapped to a couch. Together, they fly (yes, fly) to the mountain of the infinitely evil Nome King (who doesn't like chickens!) who has stolen all of the Emeralds and imprisoned the Scarecrow, the rightful king of Oz.

All evilness aside, the Nome King (Nicol Williamson) is definitively creepy, an old man made of stone who acts unnaturally friendly towards little Dorothy. Underneath his stone robes, however, he wears none other than the Ruby Slippers!

Return to Oz is a beautifully crafted film, both visually and psychologically. Clearly, parallels exist between this film and the Wizard of Oz - both involve a dream in which people in the "real" world manifest themselves as characters in the dream. The characters themselves are echoes of the original movie - the mechanical metal man who longs to feel, the clumsy but loveable beast, the evil witch and her inhuman minions. This reflects either an extreme predictability in Baum's style, or an amazingly successful use of archetypes on the part of both Baum and the film's creators. Like the Wizard of Oz, but certainly more successfully, Return to Oz is a stinging commentary about the impact of the oppressive adult world on the impressionable child's imagination.

With dazzling sets and corny-but-endearing effects, Return to Oz ranks with the best of 1980s fantasy film classics. It's my favorite movie - if you've not seen it yet, go rent it.
Author:
delilah
Update This Review
Verdict
A brilliant, whimsical, dark and compelling world that you'll be sorry to leave when the movie's over.
Dark, disturbing, thought-provoking, and deliciously surreal. Beautiful sets and cinematography.

Not for everyone - certainly too scary for the audience for which it was intended.
Rewind Rating
The Movie Data
Data
Release Date: 21 Jun 1985
MPAA Rating: PG
Studio: Walt Disney Pictures
Production: BMI (No. 9) Ltd., Oz Productions Ltd., Silver Screen Partners II, Walt Disney Pictures
Genre: Fantasy
Update The Data
The Movie Trailer
Jump To: Music & Soundtrack Vibes
Or use the menu to navigate
1985 Walt Disney Pictures
1999-2020 fast-rewind.com
V4_27 Powered by Rewind C21 CMS