REWIND
REVIEW

Remo Williams: The Adventure Begins...
PG-13
AKA: Remo: Unarmed And Dangerous
"
A hero who doesn't exist must save America from an enemy we never knew we had.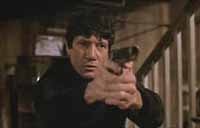 Starring
Fred Ward, Joel Grey, Wilford Brimley, J.A. Preston
George Coe, Charles Cioffi, Kate Mulgrew, Patrick Kilpatrick, Michael Pataki, Davenia McFadden, Cosie Costa, J.P. Romano, Joel Kramer, Frank Ferrara, Marv Albert, Ray Woodfork, Phil Neilson, Webster Whinery, Gene LeBell Update Cast
Review
Officer Samuel Edward "Sam" Makin (Fred Ward) is a tough, decorated, and honest NYPD cop. Just like any other man he enjoys the occasional Knicks game and is a lover of burgers.

However, his idyllic existence is about to go kaput.

After trying to save a man from a mugging (who turns out to be one of the gang himself and attacks him), Sam's car is pushed into the Hudson River by an unknown man driving a garbage truck.

However, Sam survives under the most bizarre circumstances: his death has been faked by a secret government organization known as C.U.R.E. (they practice the 11th Commandment: "Thou shalt not get away with it."). Their existence is known by only five people: Harold W. Smith (Wilford Brimley), the head of C.U.R.E.; Conn MacCleary (J.A. Preston), a veteran agent and the man who drove the garbage truck that knocked Sam's car into the river; The President (and several of his predecessors), another person who will be mentioned later; and now Sam. With all his decorations and dedication to justice, Sam was the ideal candidate to become an assassin for C.U.R.E.

Rechristened "Remo Williams" after the name and location of the manufacturer of the bedpan in Sam's private hospital room, he's given his first hit. However, the only person at the hit's location there is an old Korean man named Chiun (Joel Grey), and he's the man Remo is supposed to kill. However, Chiun turns out to be a very agile fellow despite his age and dodges every shot from Remo's pistol. When he manages to dodge every attack that Remo makes as well as cause pain with just a few hand motions, Remo gives up. Conn reveals that Chiun is the fifth person who knows about C.U.R.E. hired by the "emperor Smith," as Chiun calls him, to train Remo in the (fictional) Korean martial art of Sinanju, which is what Chiun used on Remo earlier.

Despite Remo's non-Korean heritage (Chiun is a nationalist) and his agility ("You move like a baboon... with two club feet!"), Chiun sees a glimmer of promise in the man, and agrees to train him in the art of dodging bullets, walking on air, using your hands and feet as deadly weapons (I mean more deadly weapons than any other martial art), and to be able to incapacitate a man with only a few hand motions.

It turns out that Remo is going to need all the training he can get. The government has recieved faulty machine guns from a man named George Grove (Charles Cioffi), head of Grove Industries. However, the greedy Grove knows that they will be too expensive to repair, so he uses a man he knows in the military, Gen. Scott Watson (George Coe), to bury the report written by Maj. Rayner Fleming (Kate Mulgrew), who witnessed the defect of the weapons firsthand. However, it also turns out that Grove has been taken to court for many crimes, always getting off because of unsubstantial evidence or the disappearance of the one man with knowledge of his dirty dealings (and the witnesses to that man's murder). When Fleming starts doing a little investigating, Grove decides to make her disappear. Also, C.U.R.E. is in trouble when they try to find info on Remo when he's photographed with Fleming. Remo and Chiun must stop the arms dealer before he harms more people with his faulty weapons and drains moremoney from the Government for projects that won't ever see the light of day.
Author:
Kyle Palkowski
Update This Review
Verdict
"Remo Williams: The Adventure Begins..." was released in October of 1985 with lukewarm response, but found an audience on video, and it is rightly deserved. This is one of the best 80s action/comedies out there. You'll enjoy it a lot more if you don't take it seriously at all, since the film has it's toungue planted firmly in it's cheek.

Fred Ward makes for a gruff, funny, and a major ass-kicking hero in Remo. Joel Grey (under heavy makeup) does a great Chiun, with many funny lines and a great chemistry with Ward, making their evolution from a teacher/pupil relationship to an almost father/son relationship quite believable. Wilford Brimley makes for a gruff, no-nonsense Smith, while preston does a good job as the veteran agent Mac.

There are some great action set pieces (the most famous being Remo vs. a few hired thugs on the scaffolding of the renovation-in-progress Statue of Liberty) and a nice music score from Craig Safan (most famous for composing the score to "The Last Starfighter"). However, there are a few flaws that keep the film from a perfect 10.

The villians are quite cookie-cutter for a character such as Remo Williams. A man like Remo deserves many of the super-villians found in the book series, but they go with a generic baddie. Also, his motives are a bit unclear (at least to me, I had to guess a little on his motives for the summary above).

While the movie takes some liberties with the "The Destroyer" series of novels that it is based on, it is still pretty good, despite the few flaws listed above.

More than 20 years later, we're still waiting for the adventure to continue...
The performances, the action, the music, the humor, and a lot of the writing.

The villians are a bit generic considering the hero character, and their motives are a bit unclear.
Rewind Rating
The Movie Data
Key Crew
Director: Guy Hamilton
Writer: Warren Murphy, Richard Sapir, Christopher Wood
Producers: Mel Bergman, Dick Clark, Judy Goldstein, Larry Spiegel
Locations Manager: Edwin 'Itsi' Atkins, David A. Starke, Alejandro Ferrer
Update The Crew
The Movie Trailer
Jump To: Music & Soundtrack Vibes
Or use the menu to navigate
1985 Orion Pictures
1999-2020 fast-rewind.com
V4_27 Powered by Rewind C21 CMS